Pregnancy is the most beautiful phase in a woman's life. However, the irony lies in the fact that it is also one of the most stressful periods in her life. It is essential to feel light and relaxed during pregnancy because the mother's emotions impact the baby's development in the womb.
If you are pregnant, elders in your home and your gynecologist must have told you about the importance of listening to relaxation music.
This video contains relaxation music piano notes that help you get rid of all the stress and anxiety from within. While listening to this video, you will start feeling the burden being lifted off your mind & body, thereby helping you feel light, happy, and relaxed. If you are looking for a compelling video on meditation music for sleep on YouTube, this is one of the best choices for you.
Why listen to any relaxation music?
If you have been wondering why and how this meditation sleep music will help you, here are some reasons that will convince you to listen to it right away:
According to experts, listening to relaxing music during your pregnancy can help you develop a healthy prenatal bonding with your child. The soothing piano notes in this video produce some calming chemicals in your body, which eventually reaches your placenta where your baby is.
When you listen to this YouTube music for sleep video, you will experience a sense of happiness and a stress-free mind that is hard to explain. The relaxing notes in this video help in the brain development of your baby. Your baby's ears start developing quite early. By week 16, he/she can hear everything clearly; your baby can remember what he/she heard in the womb till up to 4 months after birth!
That's surprising, indeed!
As a pregnant woman, you might be going through a lot of pain (physical & mental) and stress in your everyday lives. Listening to soothing music can help you in the following ways:

Reduction of stress and anxiety that is a constant part of every pregnant woman's life
Stress relief music with calming notes can improve the endorphin secretion in your body; these are hormones that increase your threshold to pain and keep you positive at all times

Many health centers are practicing music therapy on pregnant women, and young parents as it works wonders in controlling depression & anxiety is cost-effective and is easy to be tried out by everyone.
Other benefits of relaxing piano music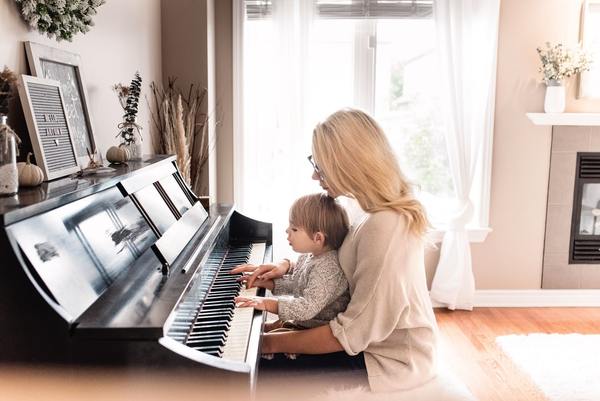 Yes, the relaxing piano notes on this music video help pregnant women immensely, but they are not the only ones to get benefitted from this. If you have been facing difficulty to sleep properly at night, this video will help you.
The sleeping music meditation notes from the piano will ensure you drift off to a deep slumber quickly. You will be able to sleep like a baby, thanks to this video. More importantly, you will wake up the next day with a renewed freshness that you hadn't felt in ages. Watch the video right now to shed off the anxiety and unnecessary stress from your lives quicker than you imagined.