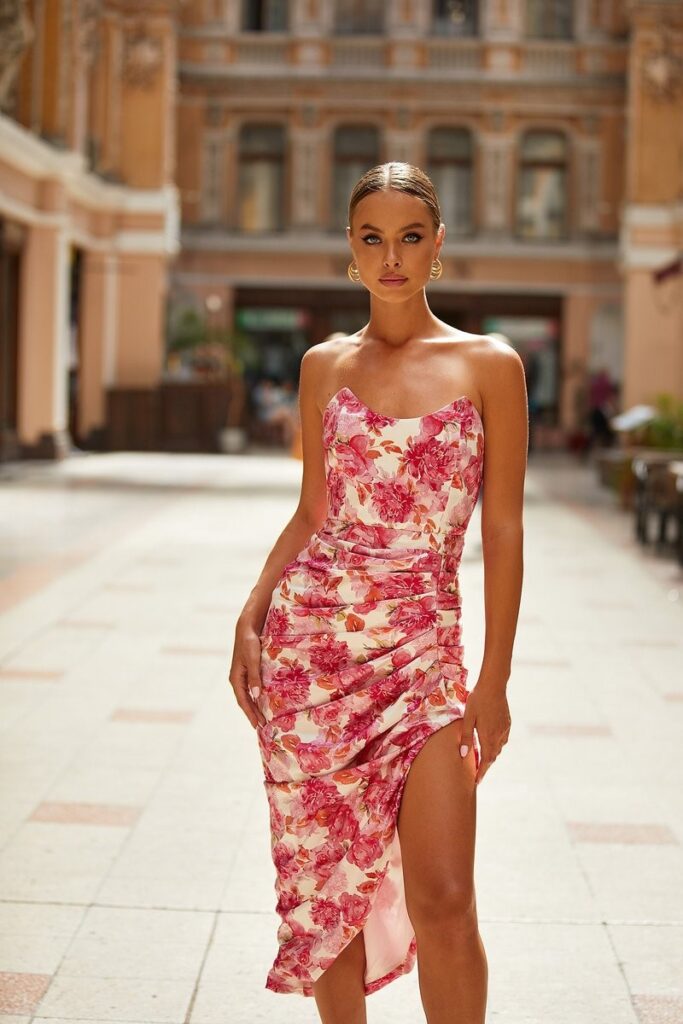 Hunting for the right fitted dress for you? Whether you're heading to a super formal affair, a night out on the town or you're simply wanting to add a few stunning pieces to your collection for your next big event, a fitted dress is the way to go.
Keep reading for a few shopping and styling ideas that will get you closer to your ideal fitted dress (or two!)…
Finding your dream dress
Finding the perfect fit is key to embracing the fitted dress trend this season. The right style and cut are going to skim over your silhouette beautifully and have you feeling as confident and comfortable as possible – and what more could you want for a night or day out look, really?
Make sure you know your dimensions before you start shopping. Grab a measuring tape and note down your measurements, keep them with you while you shop in store or online to make sure that the pieces that catch your eye are going to flatter you flawlessly.
You're also going to want to keep an eye out for high-quality materials and thoughtful design, this really does make all the difference especially if you want to keep wearing, loving, and styling that fitted dress for many memorable occasions to come.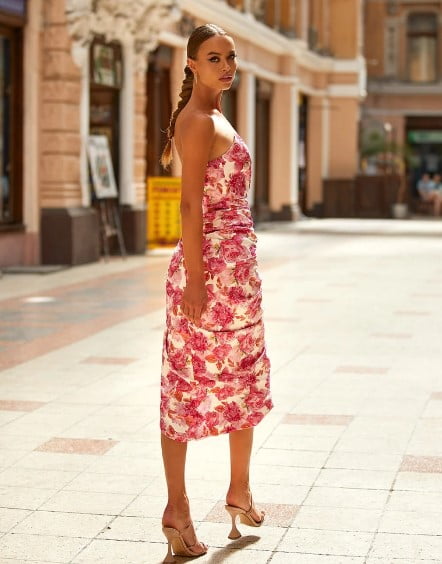 Source: Alamour The Label
Must-have fitted dress styles
There's a wide selection out there, here are a few key trend dresses to keep your eye on this season…
Bustier accents
A bustier or corset shape is the absolute ideal way to add a fitted dress into your collection if you're still looking for some serious support while you serve a major style. Look for yours in an eye-catching blush-toned feminine floral print with a rouched high leg detail to feel fabulous at your next formal affair.
Style with simple delicate gold jewelry and elegant heels for an elegant outfit. You can also add some chunky boots and a grungey leather blazer jacket or denim jacket to take your more formal piece and make it work for your casual daytime events.
Ribbed-knit midi
If you don't have a ribbed-knit midi dress in your wardrobe already, then this is your sign to get out there or start scrolling and find one. This piece is just the ultimate staple all year round, for every style, shape, and season.
It's a no-brainer and will have you feeling your very best every single time, guaranteed. Choose yours in a classic neutral tone like black, navy, cream, nude, or white for endless styling opportunities. Make it work for cocktail hour or night events by styling it up with bold, colorful jewelry and platform heels.
Make it work for heading to coffee or brunch dates with a white button-up, denim shirt or silky short-sleeve button-up top thrown over the top, white sneakers, and simple chunky gold jewelry. There's nothing this fitted dress can't do.
The Little Black Dress
Another essential that you really need to grab if you don't have one somewhere in your wardrobe already. The LBD has been a firm fashion favorite for the past 100 years for a reason – it's the definition of versatile, chic, and comfortable.
Bag this classic in a fitted style?
You're golden for years and years to come. Wear with literally anything in your wardrobe from blazers to jackets, shirts to tops layered over the top or underneath. This is one that you're going to want to invest in, simply because you're never going to tire of the endless styling potential it brings to your wardrobe.
One-Shoulder Dress
One of this year's top trends is the one-shoulder dress. This popular look has actually been around for almost a decade, but it looks as though the fashion industry is putting some focus on this piece again.
If worn properly, with straps that are thick enough to elongate your shoulders and balance out the off-the-shoulder part, it can be a chic choice.
Floral Printed Dress
Florals aren't going anywhere! When choosing a floral printed dress for summer it's important to choose an interpretation that will work best for you. Whether that means choosing a bright maxi or selecting a more demure print for your fitted sheath dress, there are countless options out there when it comes to florals.
Striped Dress
Stripes are no longer reserved for the days when you're feeling particularly preppy; they're making their way into fitted dresses too! Stripe patterns can be subtle or bold, depending on your preference. Generally, the more stripes there are in a pattern, the more casual it will look.
Pair this piece with towering heels and statement jewelry for an elegant evening look, or keep it breezy with flat sandals and minimal accessories for an effortless style that's perfect for day-to-day wear.
Ruffle-Trim or Embroidered Sleeves
Ruffles aren't just reserved for big summertime events anymore. Embroidered sleeves and ruffle trim are now popular accents on fitted dresses as well.
For summer, it's best to stick to lightweight chiffon dresses in solid colors, so that the ruffled embellishments can really pop.
Lace Up or Cutout Back
Another trend we're seeing more and more of these days is the lace up or cutout back dress. Both prints tend to be reserved for evening looks, but they're both equally as chic during the daytime too!
The key is classically pairing this piece with a slip skirt underneath and then topping it off with a jacket (should you choose to wear it during colder months.)
Sleeveless Dress
The sleeveless dress is another top summer trend, and it can be seen in a variety of styles. Typically sleeveless dresses for women tend to have a bit more going on, with designs at the shoulder or waist that add extra detail.
It's also key not to wear too many accessories when wearing a dress like this one to keep your look contemporary and fashion-forward.
Asymmetrical Dress
Another majorly trendy style right now is the asymmetrical dress. This dress tends to have a more edgy vibe, so pairing it with delicate jewelry and shoes usually balances out the look quite nicely.
For instance, if you choose a black dress you could add some color with red pumps and matching lipstick; we love the idea of a bright clutch too.
Cold Shoulder Dress
This vintage-inspired trend is another cooler weather variation that can be worn during the summer as well!
To create a more versatile look, choose a dress that has both cold shoulder and long sleeves, then pair it with some gladiator sandals or boots for those warmer days when you want to show off your shoulders but don't really feel like wearing shorts.
Sheath Dress
So perhaps this one doesn't seem like much of a 'trend,' but we love the style of the sheath dress so wanted to include it in this list anyway!
Featuring clean lines and an easy silhouette, the sheath is perfect for all different kinds of events; whether you're attending a summer wedding or having drinks with your besties, this dress is both comfortable and chic.
Crop Top Dress
Last but not least on our list of trendy dresses for summertime is the crop top dress! Whether you choose an oversized fit or one that's body-hugging, if paired properly this piece can be sassy and chic at the same time.
If you're self-conscious about the length of your arms, express yourself with some bold jewelry instead.
Ready to find your perfect fitted dress? Take your measurements and get scrolling, there's no time like the present.