Introduction
I will never forget how motivated and focused I was when I found out I was pregnant for the first time. I swear I didn't skip a single prenatal vitamin during the entire pregnancy. I exercised and took care of myself, including about 10 hours of sleep every night. I even had a cute little baby app that compared my baby to various fruit sizes each week.
It was the textbook pregnancy, and I scoffed at the mamas who didn't have it all together like me. But even while operating on all prenatal cylinders, it was a challenge to keep all of our family and friends constantly updated on the pregnancy's progress. The app I really needed was one that would consolidate all texting, e-mail, and social media posting and keep everyone in the loop.
MORE: How Sproutly makes one less thing for expecting parents to worry about
A Year Later
Fast forward a year to when I found myself pregnant with our second child, which became nothing like my first pregnancy! Already with a teething baby trying to get into everything, I took vitamins when I remembered and maybe exercised a few times. And I had zero clues as to when my baby went from being grape-sized to banana-sized.
I'll be the first to admit that I just didn't have the time or energy to reply to the endless texts about all things baby. I think my sister still hasn't forgiven me for finding out second-hand that we were having a girl.
Granted, our family and friends were well-meaning, but even answering simple questions seemed more like a chore than anything: What's your due date again? When do you go back to the doctor? When is your baby shower? Do you already have such-and-such an item? Where are you registered?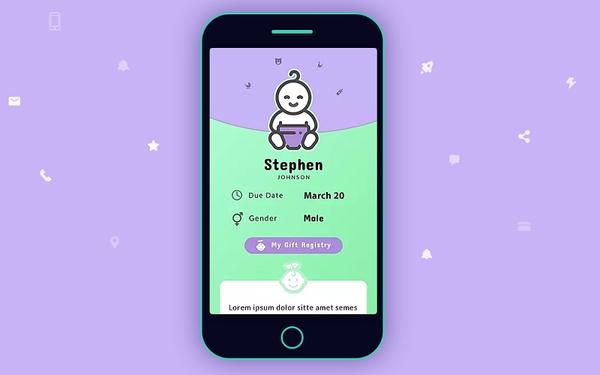 I'm not planning on having any more children, but if I did, I think Sproutly would be my saving grace. Sproutly keeps all of my baby info in a single place, including names, due dates, registries, and important updates, and I can share it with my friends and family at scale. I can upload information one time and not have to respond to a barrage of texts or phone calls. Nor will I risk leaving important people out of the loop, because they can use the app to get important notifications if they want them. Read more on our parenting blog.
Best of all, Sproutly is so quick and easy to use, I could probably delegate it to my four-year-old tech-savvy daughter who loves using my phone more than I do. And on the flip side, it becomes super simple for me to keep track of the other growing families I care about. I certainly wouldn't risk forgetting the most important information, since my mommy brain has already proven it can't be trusted.