The Enduring Goddess:
She carries the earliest seven divine powers, forming the basis of the power. Goddess in many stories and religion are those supernatural women who are having remarkable beauty, are ideals of purity, peace, and charm.
The Greek Goddess called Aphrodite was the symbol of beauty and is considered as the Goddess of fertility, love, and beauty.
So, Goddess Maternity dresses depict the royal touch of the Goddess.
Mother is always a loving human who nurtures her child and always wants the best for her child. These dresses behold the beauty of a mother.
Goddess Pregnancy Dress: What are they?
These Maternity Dresses are made like long maxis or flowing loose-stitched clothes also called THE GODDESS GOWN.
These have a deep slit which will provide you comfort and make you feel elegant.
These maintain your charm and if you want to show a little of your skin and look drop-dead gorgeous, then this convertible dress would be the best option that anyone could go for.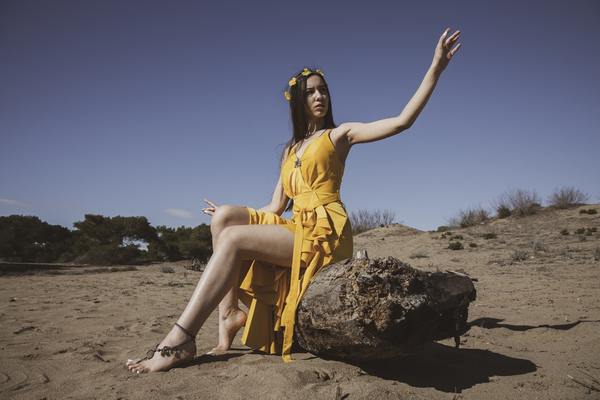 It comes with convenience to style it anyway one wants to. These dresses contour your curves so these are incredibly versatile additions to your wardrobe.
Can these be worn after maternity?
These dresses seem to be perfect evening maxi dresses designed for maternity and normal wear.
Thus these can be worn after maternity on any kind of occasion as well. These will always make you look decent and elegant and are extremely comfortable due to their loose stitching.
They are enough to suit your needs as they give you an appealing princess-like look.
Who can wear them?
These dresses can be worn in countless ways.
They will give you a royal look and all you need to do is simply tie and retie to fit and suit your figure perfectly.
The fabric blend is ultra-soft and stretchy.
A nursing mother can wear it easily.
There is no need to untie to nurse or pump making it incredibly comfortable to carry.
You can wear it after pregnancy and nursing as they are designed with style and versatility.
These dresses are perfect for use throughout the year.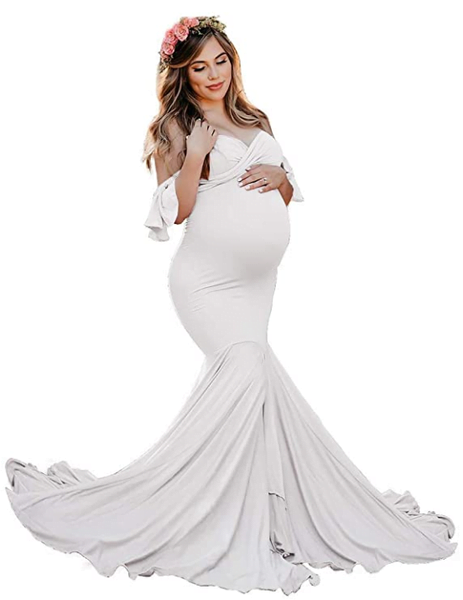 How to wear Goddess Maternity clothes?
It is an all in one dress as it can be worn in several different ways and gives you a goddess-like imperial look.
You carry this style with endless ways to wear and Give yourself unique options to dress up. The fabric is intentionally kept soft and satin to provide you with unmatchable comfort.
On what occasion can they be worn?
It is a perfect fit for pregnancy and posts pregnancy.
It is an easy and economic option to consider for the pregnant ladies.
These are the best versatile dresses ever you can wear them in any sort of formal gatherings shower party, dinner date night, beach wedding. Wearing these on a wedding amplifies your charm and beauty.
The Gowns are perfectly fit for a maternity photoshoot. They are comfortable enough.
However, due to their flowing nature, they would not be an ideal option as a formal dress during work and thus they should be avoided to wear at the workplace.
Accessories that go with these types of maternity dresses:
Many accessories can go with these types of maternity dresses. For example, belly bands which support your abdomen and lower back.
Trimesters are also used to contour your body, giving you a perfectly ravishing look. As an addition different nursing scarf can also be used for your ease.
Moreover, there are different baby bump maternity tights available to wear below to give you a perfect shape.
They are suitable for which season?
They are suitable for almost every season but it is more suitable to wear in summer. As they are made up of ultra-soft fabric and are mostly loose in their fitting which gives a refreshing look as a result.
To use them in winters you can wear a camisole and additional long-sleeve layer underneath. Wearing legging or fleece-lined tights instead of regular tights will help you to get saved from cold.
What color are they mostly available in?
These maternity dresses are readily available in almost every color. These are mostly available in silver, white, red, green, turquoise, blue, and black.
Different gems and metals are used to enhance their beauty such as moonstone, silver, diamonds, etc. This makes them endlessly beautiful.
How much do they cost?
These beautiful goddess maternity dresses are the best option for maternity.
Their price ranges from $$ and goes on.
These are super comfortable and are glamorous.
Things to consider before buying female deity pregnancy outfits:
The key points to be considered before buying these maternity dresses are your style and convenience. Think of the usual style you carry and your favorite pieces in your closet.
What sort of function you are going to attend?
Assess your body, weight, breast, and abdominal size.
Always choose according to your body size.
By keeping these points in mind, you can be clear what sort of maternity dress you should buy.
At what stage of pregnancy do they suit most?
Most of the pregnant women can wear casual clothes for most of the first trimester, taking care of their comfort. When you are around 4 to 5 months pregnant, you may have to start wearing these dresses.
These will give a very stylish look and can hold your pregnancy gracefully and comfortably.
This allows you to attend different events comfortably and graciously.
How they are different from other maternity dresses?
There are a lot more maternity dresses like Mexican maternity dresses, Tulle maternity dresses, etc.
These are different from others as they are made with extra fabric and details that keep you more easy and comfortable.
Due to the presence of the stretchy belly panels and waist ties, these provide more comfort.
Moreover, these dresses give a great royal look, thus you cannot say that it is particularly a dress for pregnant women.
These are true to size and you will love the different style options for wearing.
You can wear these on a wedding or maternity photoshoots. These can be used as bridal dresses designed with style and versatility.
Pros:
These dresses provide the utmost comfort.
Provide space for your growing body.
These give you easy mobility and stretch according to your body so that you can walk and move comfortably during your pregnancy.
These give you the optimum level of hygiene and health.
Boosts the self-confidence of a pregnant woman.
Enhances your beauty.
Cons:
Most of the time mothers can wear cheaper dresses, so they don't need to spend money on such maternity wears.
As the usage is usually for the last three to four months of the pregnancy so they add to the expenses unnecessarily.
These are fancy and can't be used for regular use.
Difficult to carry.