Diaper bags are a parents' must-have if they wish to have anything close to a comfortable outing with babies, toddlers, or even preschool children.
Many people take for granted the ease childcare bags have provided over time.
And if you think about it, you will see how many people have turned ordinary bags into nappy bags. Some even had to improvise with totes.
However, diaper bags were designed with your child in mind.
It helps with storing wipes and diapers for baby changing. It also houses snacks for the indecisively hungry child, toys, books, or whatever emergency needs your children will demand on an outing or at home.
Most of them will be used until a child is about five years old, so when picking the one, you will need to consider durability and fashion. This is where the SoHo Diaper Bag Collection comes in handy. SoHo designs diaper bags that provide a variety to choose from for mom or dad.
SoHo Collection, Grand Central Station 7 pieces Diaper Bag set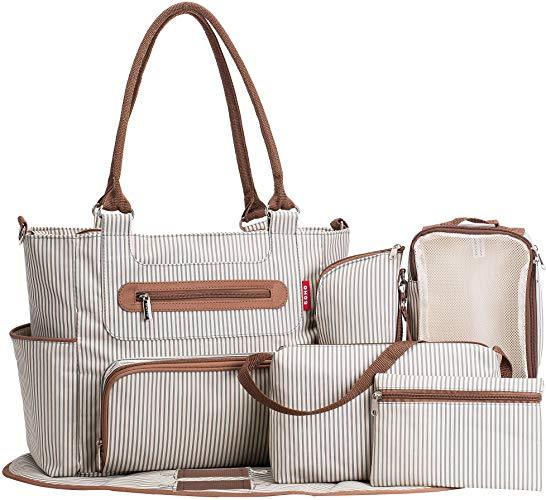 The SoHo designs grand central station features a 7-piece complete set.
The extra accessory storage helps you to organize and tailor packaging according to your travel plans.
If you're going to be with the baby for a long time, you would need the padded changing station and at least another pair of clothes. Or a trip to the park with a stroller will need the stroller attachment.
It is spacious and has many pockets, so taking the entire set might not even be challenging.
The entire SoHo collection is water-resistant, perfect for spills and rainy days.
The Grand Central Station can come in various patterns in terms of style and colors. This gives you a chance to pick one that will suit your taste.

Pros
Space and pockets allow for compartmentalizing items for easier access and better organization.
The stroller straps allow you for flexible movement and arrangement.
The material is durable and easy to clean, thanks to its non-absorbent nature.
Cons
It can't be turned into a backpack.
Its handles are thin and can bite into the shoulder when it is sufficiently heavy.
It might begin to show in the lining as it unravels.
The bottom layer has no canvas platform and may cause the bottom to droop due to weight.
SoHo Tribeca Diaper Bag Travel Tote 9Pc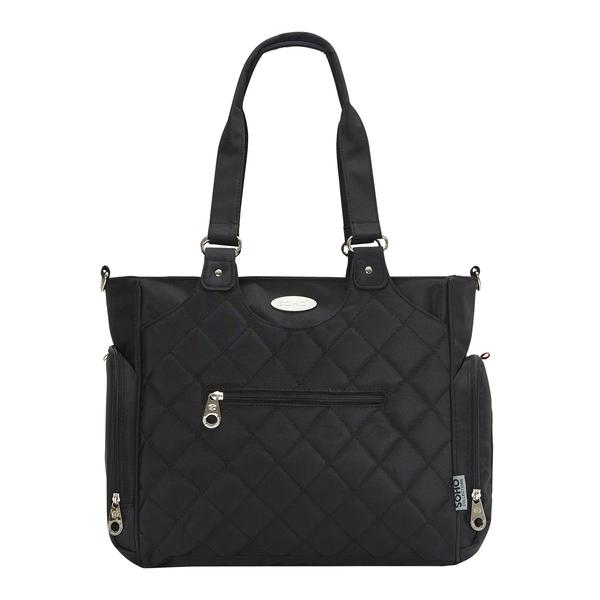 According to Amy, the Tribeca Diaper bag is fashionable, durable, and travel-ready with extra eight pieces of convenient items.
The bag is made of 100% polyester, making it completely waterproof and easy to clean and disinfect.
It has a carrying strap and many inside and outside side pockets that allow for easy compartmentalization. It allows moms to be able to separate personal items from the kids.
The insulated bottle case keeps liquids warm or cold for extended periods.
It also has a pair of stroller clips to turn your bag into a convenient stroller or shopping cart attachment.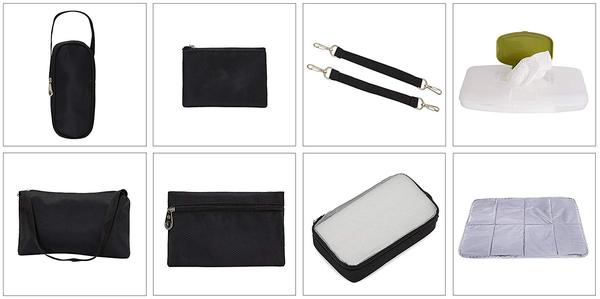 As for style, the Tribeca Baby Bag can look good in gym clothes or date clothes. It is medium-sized and made with functional modesty in mind.
Tribeca can be worn on the shoulder or carried in your hand and still look good. It has a lifetime warranty.

Pros
It comes with many extra sets of clutch purses that will help storage.
It is medium-sized and will not look too big on smaller-sized people.
Fashion versatility is a very convenient feature.
All you need to do to remove stains is to wipe
Lots of pockets allow for better organization.
Cons
It comes only in black.
If you do not wash this delicately, the polyester might rip.
It wasn't designed for the daddies.
SoHo Kenneth Diaper Backpack 6Pc Tote Bag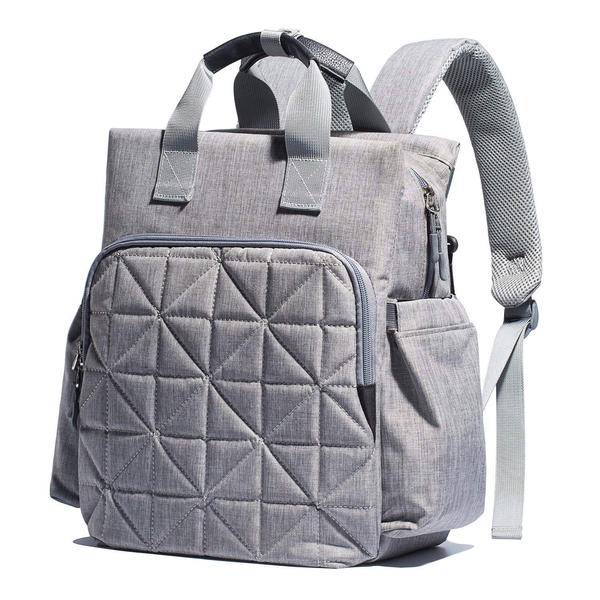 The Kenneth diaper bag is designed by the famous French designer Kenneth Leroy. This is one of the unisex bags from SoHo and combines style with functionality.
It comes with five additional items. It is waterproof and insulated. So, it does not only keep snacks dry, but it keeps them warm or cold.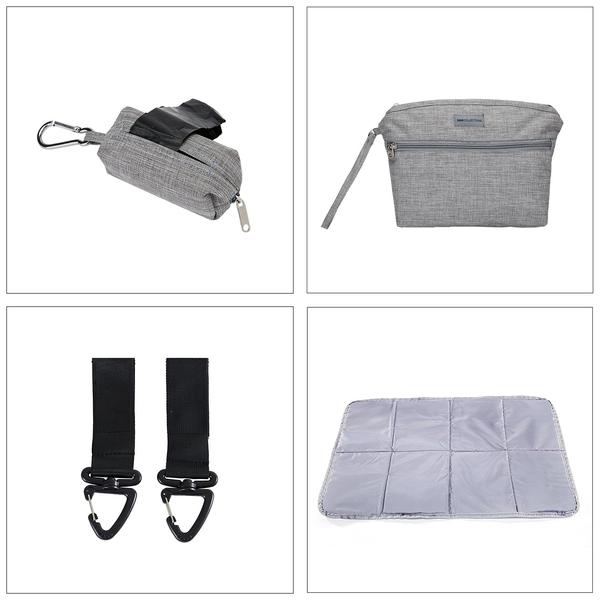 The baby bag backpack allows you to function without having to drop your bag. It is medium-sized, not in the least bulky or unwieldy.
And if you do not want to wear it as a backpack, it's got handles at the top. Kenneth has many pockets for storage and easy compartmentalizing. It comes in four colors.

Pros
The many pockets are a bonus, and it is especially useful for diapers.
Its medium size allows for travel convenience.
It is easy to clean.
Affordable
Cons
This isn't very spacious. Pockets might feel cramped if the main compartment is full and vice versa.
It is not the best if you're looking for a more formal style.
SoHo Manhattan Diaper Backpack Bag 5pc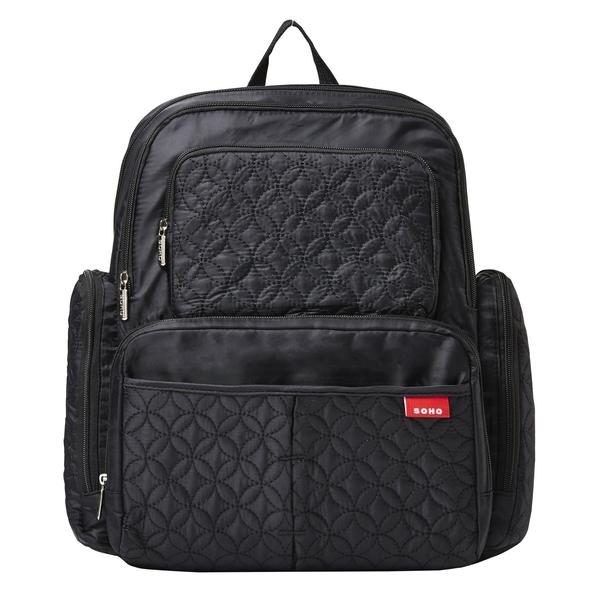 The SoHo Manhattan Diaper bag reflects the quality of SoHo design, merging functionality and convenience.
The Manhattan Diaper Backpack boasts twelve pockets for easy compartmentalizing and organization. It also comes in three colors.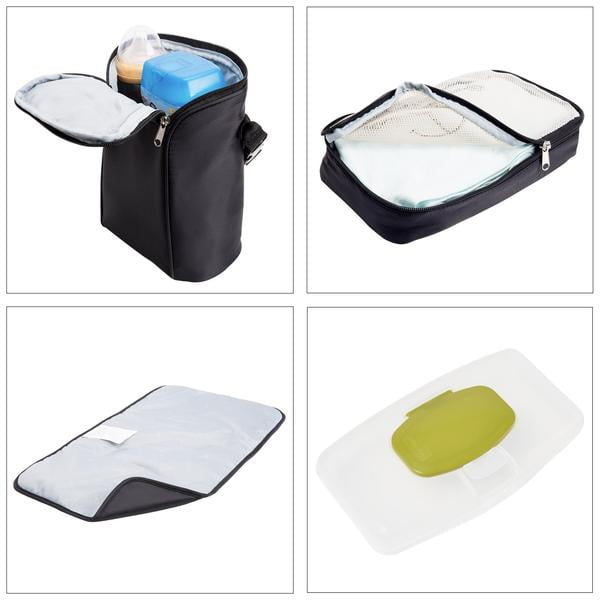 The SoHo diaper bag backpack is made from tough, water-resistant nylon that keeps the interior dry all the time. Sporting a unisex design, it can be used for both mom and dad.
The hands-free backpack style allows you to operate with your hands freely.
And if you don't want to carry it on your back, you can always use the handle at the top. The baby nappy bag has a 12-month warranty.
You'll get Manhattan with changing pad zippered bottle case.

Pros
It is lightweight at 2 lbs.
It is built neatly with stroller straps.
It is easy to clean and disinfect due to non-absorbent material.
Cons
It is not insulated or waterproof.
The Manhattan Diaper Backpack isn't the best for more formal wear.
SoHo Animals Diaper Tote Bag 10Pc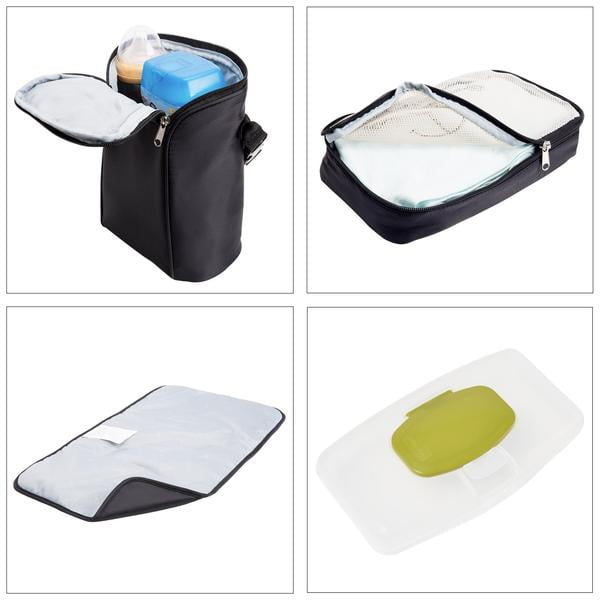 This SoHo tote diaper bag was made with more kids in mind and featured a series of beautiful illustrations to choose from.
Like most other SoHo bags, it comes with extra accessories.
The diaper tote bags are waterproof and stain-resistant and would prove durable in various wet scenarios. The fabric can withstand being machine washed.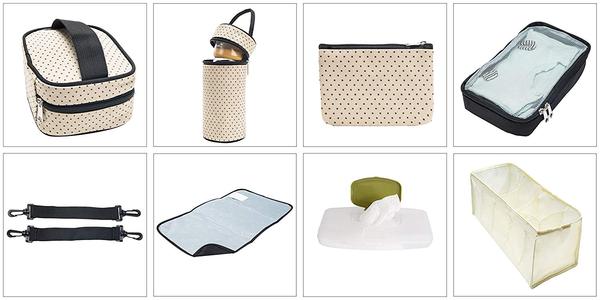 The main compartment is big enough to contain a breast pump and extra childcare accessories.
The SoHo Animals Diaper Bag comes in various colors and designs.
It looks child-friendly with cute illustrations. The lavender with an elephant design is a popular choice.

Pros
It is easy to carry – as a handbag, on the shoulder, or as an oversized purse.
The bag is roomy enough for most of the kids' emergency demands.
It is easy to clean, and stains are removed with simple wipes.
It allows for better portability.
Cons
It is not stylishly ideal for men.
The material used to make the bag seems to rip easily at the zippers
It can only be carried on the shoulder and hand, not as a backpack.
SoHo UnionSquare Diaper Bag Tote 6Pc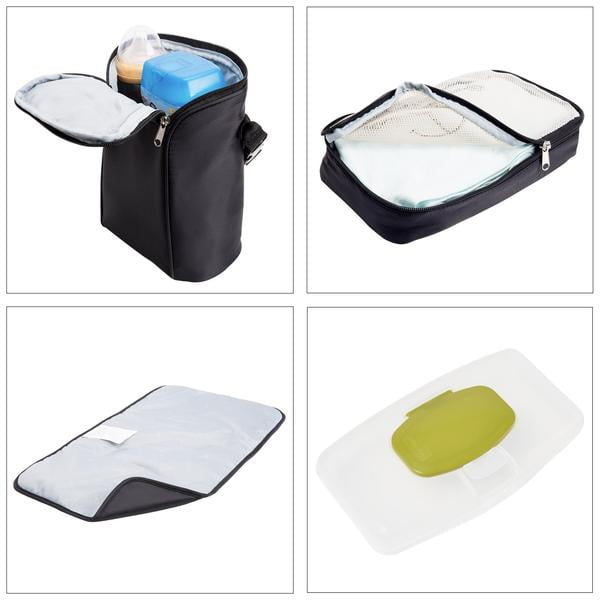 Designed with exquisite embroidery, it features a beautiful tote carriage and a wide space for use.
The SoHo UnionSquare Diaper Bag packs an extra five accessories for your convenience: It is spacious and will contain all your necessary items.
Further, it is made of water-resistant textured fabric that is also stain-resistant.
The metal on the zip is reinforced and anti-rust.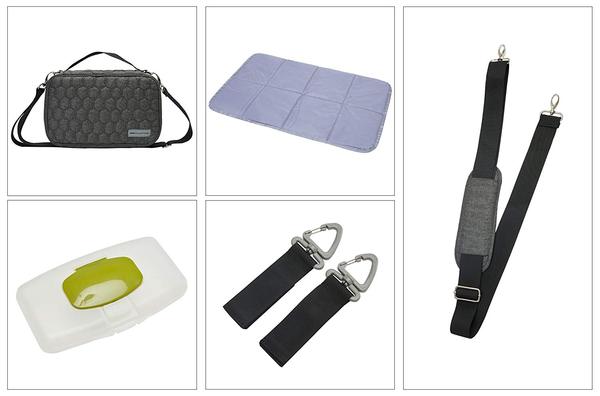 The UnionSquare is easily one of the moms' most fashionable bags. The tote bag features a quilted look and can pass as anything other than a nappy sack.
It is easy to turn into many things, a tote, a stroller pouch, an oversized purse, a shoulder purse, etc.
The nappy tote is as stylish as maternity bags get. The nappy tote comes in different colors and has a lifetime warranty.

Pros
The UnionSquare features many pockets (up to twelve) for easy categorizing.
It is easy to clean and disinfect with wipes and is also suitable for a machine wash.
Its versatile fashion style allows for various outings and events.
Cons
It wasn't quite designed as bags for boys
It has a heavy top opening metal bracket that weighs the bag down even though it is empty.
It cannot be worn as a backpack for those who prefer that.
It doesn't quite come with a host of other accessories like the mesh sack that other diaper packs come with.
SoHo NY Diaper Backpack Bag 4Pc Chevron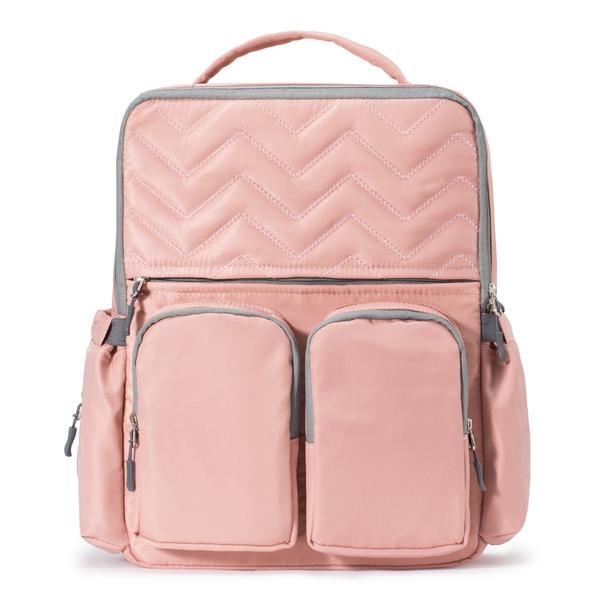 Designed by Kenneth Leroy, the SoHo NY Diaper bag is a beautiful blend of style and functionality.
As usual, it comes with extra accessories. Like the classic SoHo standard, the fabric is water-resistant and easy to clean with wipes.
Moreover, it has wet-item zippered pockets that allow for the secure storage of wet items, like soaked napkins. Phone? Personal items? That's fine.
The SoHo NY maternity backpack has hidden pockets to keep personal things.
The backpack has 13 pockets for organizing and categorizing. Some of these pockets are padded, which allows you to put devices like tablets or laptops without fear of it breaking.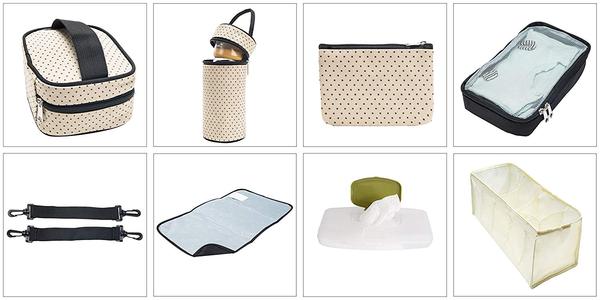 The backpack comes in three colors and is excellent for both mom and dad. Some of these are fashionably neutral colors that do not appear feminine.
Aside from the backpack functionality, it has a top handle with a vegan leather trim that allows it to be carried with your hand for quick movement easily. It has a lifetime warranty.

Pros
It gives you freedom of hand because it is easily worn on the shoulders.
It is Lightweight, coming at 2 lbs.
It can look good on both mom and dad.
Cons
The zipper is weak and can spoil with too much pulling.
It might be too small for people who carry more such as blankets.
SoHo Pink Zebra Diaper Bag Tote Purse 6Pc Set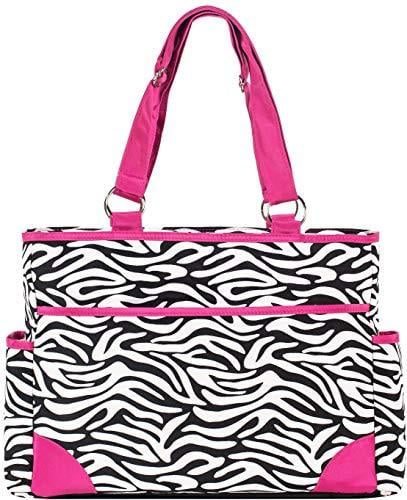 This fashionably cute tote purse bag is an example of the SoHo reliability of design and convenience.
The SoHo Pink Zebra Diaper purse comes with not only an influential fashion appeal but also a set of accessories.
It is water-resistant and durable. The main compartment of this bag is significant, with padded pockets to contain laptops and tablets.
The fashion appeal on this one is streamlined for the woman. The zebra stripes are a very appealing design.

Pros
It is big. It should and will be big enough for everything you will need.
The zebra pattern makes it very fashionable not only for moms but for women.
It has more. The smaller tote makes it easier to go on a quick run without carrying too much. It's two bags!
It is water-resistant, easy to clean, and disinfect with wipes.
Cons
Flimsy interior
For only moms – not very good looking for dads.
It does not come with stroller straps.
Not as many pockets as a usual nappy bag.
With so many amazing features at such a great price, it is little wonder how SoHo has remained a household name for nappy bags for years.
Although some items have compromised quality, that is only to keep the prices reasonable.
Surely with so much to choose from, it's nearly impossible not to be able to pick the one you can be comfortable with.
Their collection has other sacks, including Soho brown diaper bags and Times Square. Every parent should have a SoHo bag because there seems to be uniquely designed for every parent.
Frequently Asked Questions
Is the Backpack durable?

The Soho Backpack is designed with a durable structure and high-quality materials for everyday use.

This backpack has a water-resistant coating and fabric that can be worn even in rainy weather.

Designed with a spacious interior and multiple pockets, this backpack gives you all the room you need for your daily essentials.

Where can I buy it?

You can purchase it through Amazon using the links above or their official website.