Learn how the new USDA Guidelines can help give your child a healthy start, with one of the key recommendations to introduce peanuts and eggs starting at 4 months of age to help prevent up to 80% of food allergies.
What are the USDA Guidelines?
The new USDA Guidelines report was just released for 2020-2025 and for the first time ever, the guidelines included recommendations for children under 2 years of age and expecting mothers. These guidelines are used by millions of Americans to help promote healthy choices and nutrition, through school lunch programs, policies for food companies, and more. 
USDA Guidelines: 4 Things Every Parent Should Know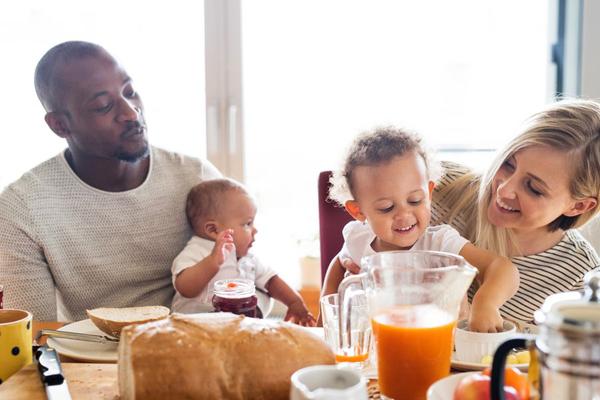 With the new recommendations for infants and toddlers, we'll break down the four key takeaways for parents in this article:
No Added Sugar for Infants and Toddlers: With childhood obesity on the rise, it is more important than ever that we give children a healthy head start, including avoiding products or foods with added sugar. According to the CDC, now 1 in 5 children suffer from obesity. That was one of the major factors for the USDA to recommend: "Avoid foods and beverages with added sugars during the first 2 years of life."
Feed Your Baby Allergy-Causing Foods at 4+ Months: 1 in 12 children suffer from a food allergy today and the USDA has included food allergy prevention as one of its key recommendations. The new research on early and sustained allergen introduction has contributed to these new recommendations: "Introducing peanut and egg in an age-appropriate form, in the first year of life (after age 4 months) may reduce the risk of food allergy to these foods." These new recommendations can help reverse the rise in food allergies and help parents avoid the quality of life impacts (such as social exclusion, increased risk of bullying, etc) associated with childhood food allergies. It's important to note that these guidelines apply to all babies, regardless of their risk factors, so that every baby can benefit from food allergy prevention. For recipes on how to introduce allergens safely, learn more at preventallergies.org.
Board-Certified Allergist and Chief Allergist for Ready, Set, Food! Katie Marks-Cogan, M.D. explains the importance of these new food allergy prevention recommendations:
Long-Term Health Starts in the First 1,000 Days: With the new guidelines designed for children under 2 years of age, the USDA has placed a greater emphasis on the first 1,000 days to help give children a healthier start and prevent chronic diseases in the future. The USDA committee explains "nutritional exposures during the first 1,000 days of life not only contribute to long-term health but also help shape taste preferences and food choices."
Breastfeeding is Still Recommended: The guidelines support other recommendations in encouraging breastfeeding and cite that breastfeeding can decrease your baby's risk of becoming overweight or obese, and developing asthma or diabetes. According to the USDA, "being breastfed may reduce the risk of overweight or obesity, type 1 diabetes, and asthma, compared to never being breastfed…This evidence supports existing American Academy of Pediatrics and World Health Organization recommendations for breastfeeding in the United States and globally."
Why It's Important to Follow These Guidelines
Food Allergies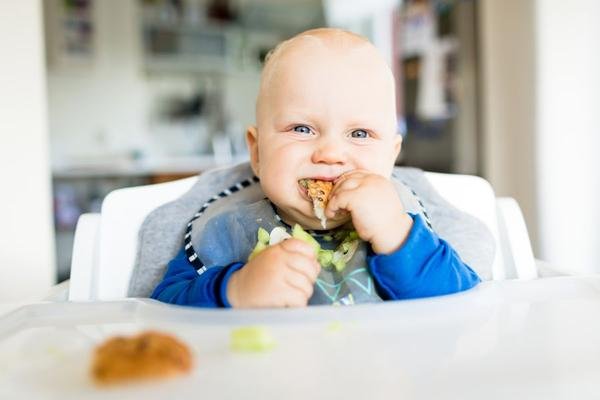 Today, childhood food allergies cost $25 billion a year and affect over 1 out of 10 families in the US. In addition, there are many quality-of-life impacts that are associated with food allergies. Every 3 minutes, someone goes to the ER for a food allergic reaction and over 1 in 3 children who suffer from food allergies report being bullied as a result of their food allergies. But now there's a way we can prevent 80% of food allergies before they start. Multiple clinical trials have shown that feeding allergenic foods like peanuts or eggs to infants frequently starting at around 4 months of age can prevent about 70-80% of childhood food allergies. These clinical trials entirely changed the way the medical community saw food allergy prevention and led to new recommendations for early introduction from the American Academy of Pediatrics, and now the USDA.
Obesity
Obesity now affects up to 5 million children with obesity now considered the most common chronic childhood condition. In addition, rates are rising with the rate of obesity tripling in recent decades. And overweight or obese children are more likely at risk for other conditions or diseases such as bone or joint problems, problems sleeping at night, diabetes, and liver and gallbladder disease.
Final Words
While the official guidelines are expected to be published by the end of 2020, it's important that parents are aware of the new guidelines so that these recommendations can help shape their children's long-term health. You can read the full Dietary Guidelines report here.