With Owlet Dream Duo Smart Baby Monitor, get total peace of mind ensuring that you can hear, see and monitor the heartbeat and oxygen level.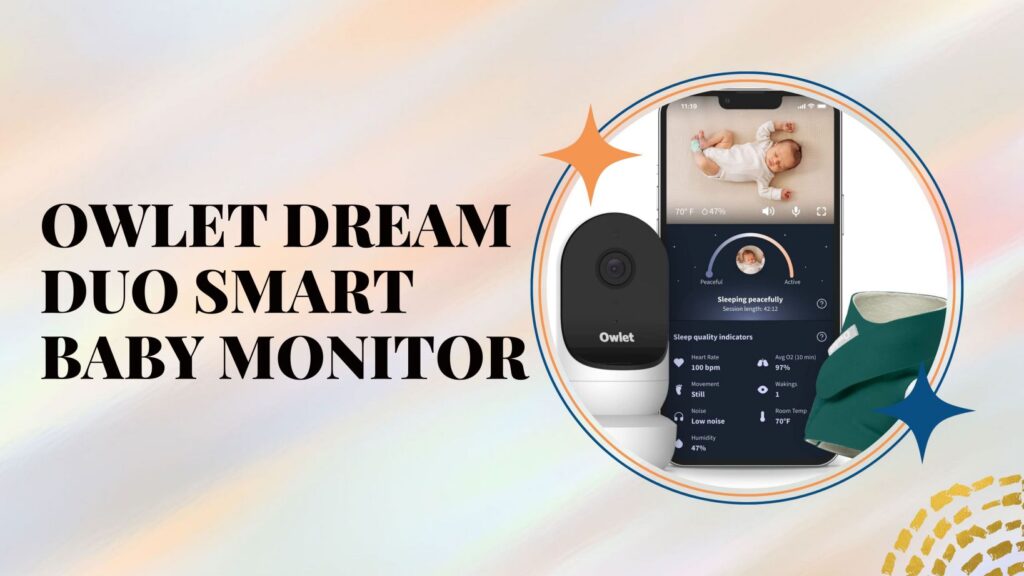 What you need to know is that the Baby is OK. Follow your child's heart rate and oxygen levels while streaming HD video and audio to the App.
Owlet Dream Duo 2 Smart Baby Monitor - 1080p HD Video Baby Monitor with Dream Sock - Baby Foot Monitor and Sensor Tracks Heartbeat and Oxygen Levels in Infants and Newborns
Track key factors that affect Baby's sleep. View Baby's Sleep Quality Indicators like heart rate, average oxygen level, movement, wakings, humidity, room temperature & sleep status so you're always informed of Baby's needs.
Receive prompts when Baby needs help getting back to sleep. Assist your baby when they may need you with Sleep Assist prompts from the Dream App and the Base Station.
Connects to Devices on 2.4 GHz - For setup, both your Owlet device and phone or tablet need to be connected to 2.4 GHz. Perform set up within 10 feet of your router. After setup, you may move your phone or tablet back to 5 GHz.
Stream 1080p HD video with night vision to your phone. See & hear Baby over a secure Wifi connection and stay connected from anywhere. Background Audio allows you to use your phone for other tasks while still listening in for Baby.
Watch video clips with sound, motion & cry notifications. Learn Baby's subtle cues & behavior patterns by watching video clips that capture their behavior before they cry, wiggle, or fuss.
Owlet Smart Baby Monitor Overview
Owlet Baby Monitor Features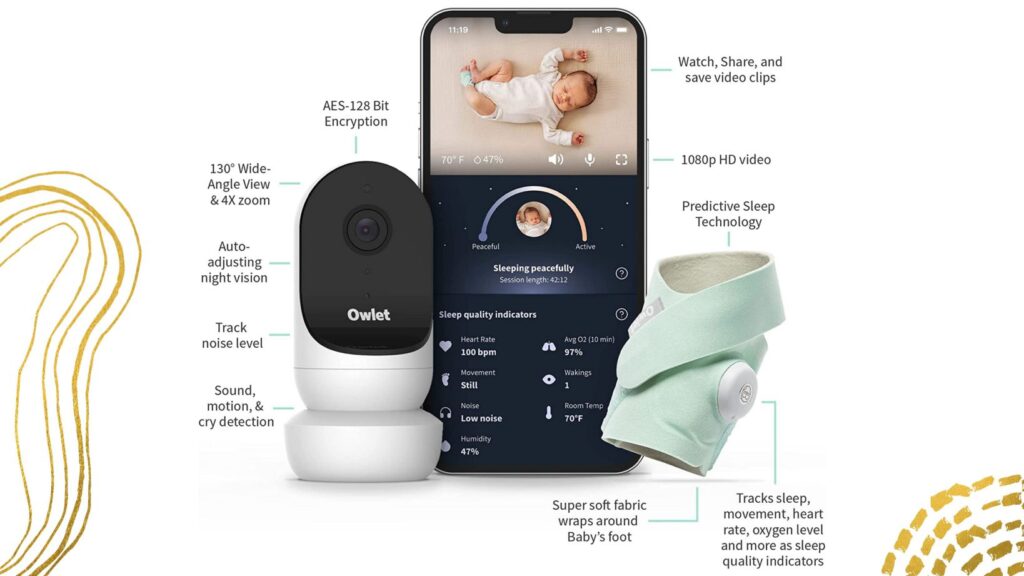 HD 1080p Video support 24/7 through owlet application
Wall mount
HD Night vision
Oxygen saturation
Heart Beat Monitor
ASL 128Bit encryption
Humidity sensor
Temperature sensor
BPA/Latex-free
Video support: Sharpest video 1080pixels is transmitted to your mobile via your smart mobile using the OWLET mobile application, which can be accessed by multiple accounts and remotely.
Encryption technology: It includes built-in ASL-128bit TSL encryption using WIFI.
Range: Range depends upon the WIFI option. It connects to WIFI, and you can see the images and insights remotely and locally using the internet.
Multiple monitors: Gives you two options of multiple access via login into the application and continuous freedom with multiple levels of allowance with all monitors.
Replacement/Exchange Warranty: 1-year limited warranty is available and boasts good customer support.
Night vision: automatic light equipped Night vision equipped
Movement monitor: movement activation sensor without any electronic connection
Warning and alerting systems: movement sensor, vibration alert \, humidity sensor, NANIT insights
Temperature sensor: Equipped
Return period: 30-day return period
Application features: Multiple account support with differential access to the insights, multiple WIFI remembrance, Optical zoom feature, Oxygen saturation, baby heartbeats per minute
Read: VTech Baby Monitors
Content
Three wearable smart socks
Socks monitor
An HD Camera
A wall-mount
Budget
It is one of the most expensive smart baby monitors and comes with a complete package of Owlet monitor and other components working together with components simultaneously. Also, check these Motorola baby monitors.
Dimensions and Weight
Dream Duo is 3.45 pounds in weight with a dimension of 3.5 x 3.5 x 0.7 inches.
Pros
Easy to set up
HD 1080p video
Talkback option
120-degree tilt using the stand
Temperature monitor
Remote access
Multiple account support
Extremely good IR night vision
Heart rate
Oxygen saturation
Cons
Expensive
No background operability
Delay lag
Sock gives false alarms
Not tilting camera
Smartphone needed
Must read: 21 Baby Monitors
What do parents say?
I have used it to monitor my baby's heart rate while she sleeps, which has helped me so much. It has allowed me to get a little extra sleep at night and made me feel much more comfortable about her safety. Would I have been better off without the Owlet? I'm not sure. I can't say for sure, but I can tell you that I have loved using this device and would recommend it to every new parent I know.

Samantha J.
Frequently Asked Questions
Is the owlet baby monitor worth it?

The Owlet Baby Monitor is a smart baby monitor like a Fitbit for your baby.

It tracks your baby's vitals, like heart rate, breathing, oxygen levels, and skin temperature. It displays these vitals on the companion app of your smartphone via Bluetooth.

Can the owlet detect SIDS?

Yes and No. The Owlet can detect common SIDS. But some variations of SIDS (SIDS with other illnesses) may not be. However, many have said the Owlet sensed their babies with SIDS.

Will owlet tell you if the baby stops breathing?

Yes, it has a heartbeat monitor.