The Montessori method emphasizes child-led learning through interaction with thoughtfully designed materials and activities. While developmental schools provide specially tailored environments, parents can also incorporate learning principles at home.
An important part of setting up a Montessori-inspired space is choosing the right furniture, especially the table and chairs. Parents play a crucial role in selecting items that will enable children's independence, concentration, and love of learning.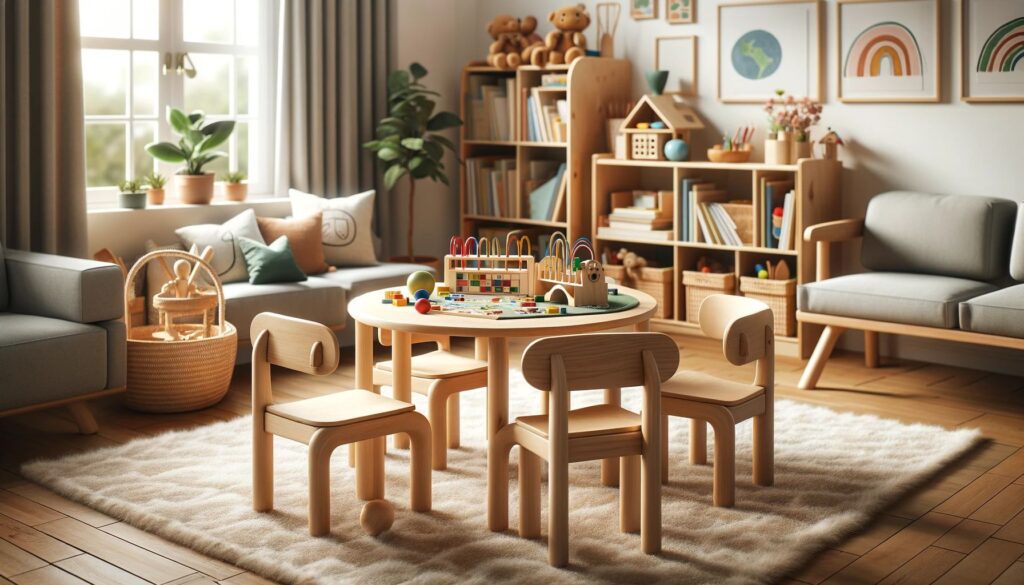 Comfort and Ergonomics
Ergonomic furnishing suited to a child's size helps avoid discomfort that disrupts concentration. Standard tables and chairs are often too large for little bodies. Montessori furniture has chairs with lowered seats and footrests for short legs. Tables should be low enough for children to reach the surface comfortably. Some Montessori table and chair sets are height-adjustable to accommodate growth. Padded chairs provide cozy spaces for long engrossment in activities.
Mobility
Montessori emphasizes freedom of movement. Furniture on casters enables children to easily rearrange the environment to suit changing needs and form temporary micro-environments for specific projects. Lightweight Montessori tables and chairs allow children to move them independently to reconfigure spaces. Some parents prefer to secure tables to the floor for stability but use lightweight stools that are easy to move. Mobility also allows for easy cleaning and reorganization of learning materials.
Neutral Colors
Progressive classrooms utilize neutral wall and furniture colors to avoid overstimulation. Softwood and muted color palettes create peaceful spaces conducive to learning. Parents selecting Montessori items for the home do best sticking to off-whites, browns, greys, and natural wood tones. Pops of color can be introduced through learning materials and artwork instead of permanent equipment. Neutral pieces also provide a blank backdrop that showcases children's creations displayed in the learning environment. 
Open Storage
Prepared environments utilize open shelving and storage to display materials in an organized fashion. This allows children to access activities independently and develop responsibility for maintaining order. Montessori furniture pieces designed for home use often include built-in open storage features. For example, a table may have shelves underneath or a built-in cubby area to store work mats. Free-standing shelving units with bins provide additional storage to organize activities. Open storage allows teachers and parents to monitor and rotate materials easily.
Durability
Children progress through sensitive periods for order, concentration, coordination, and independence. Furniture needs to withstand years of use by children who may still be developing gross motor control. Montessori tables and chairs suitable for home use are durably constructed from solid wood, thick plastics, or metals. They should not tip easily if leaned on and have rounded corners for safety. Products may be rated for commercial use to endure the activity of classrooms. Check weight capacities and stability when evaluating options.
Adaptability
Learning environments evolve with children as their skills, needs and interests grow. Furniture that adapts to different developmental stages helps the space stay Montessori while avoiding waste and cost. Tables with adjustable legs allow lowering the height year after year. Chairs can transition from toddler-size to larger seats with removable cushions. Some sets convert from individual to group configurations. Removable tray attachments help transform the work surface. Sturdy pieces that adapt to children provide longevity.
Variety
Montessori classrooms provide distinct work zones for different types of learning. For example, large open tables promote collaboration while small individual spaces allow concentration. Providing a range of furniture supports activities like tinkering, reading, art, and group lessons. Varied seating options also help children find comfortable positions. Many chair types work with standard table heights: open armchairs for group work, stools for counter height, and floor chairs for cozy reading nooks. Multi-purpose furniture like ottomans provide extra seating flexibility.
Real-Life Size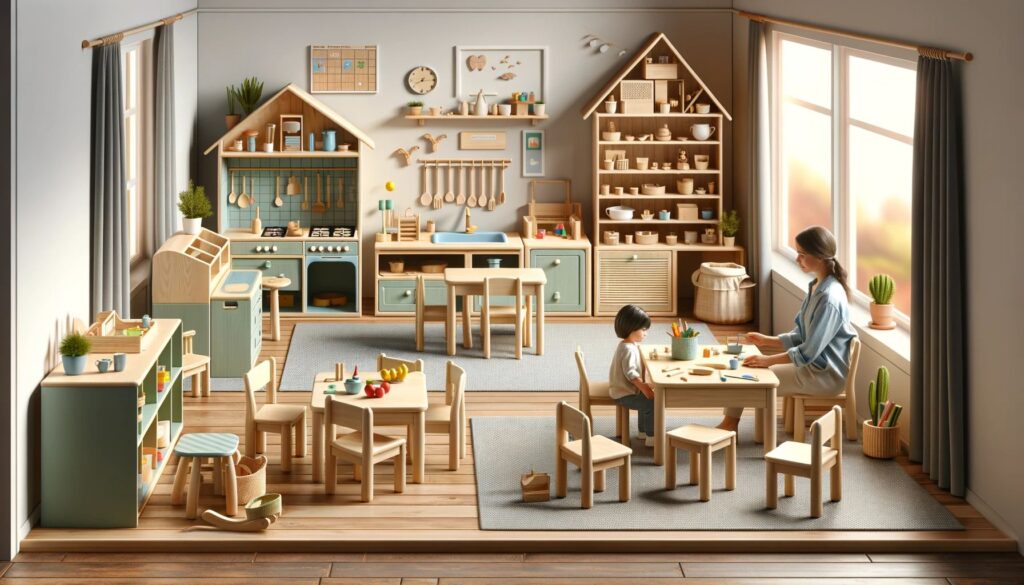 Montessori emphasizes real tools, furniture, and environments. Toddler environments introduce child-size cooking stations, cleaning tools, and dining items. This allows for practicing everyday living skills. Parent-facing Montessori tables and chairs allow caregivers to work alongside children as peers. Learning classrooms for older children utilize adult-size furnishings and tools to convey responsibility and instill care. When selecting real-size equipment, assess safety and match the scale to the child's abilities. Help children gain confidence in caring for real materials by starting small.
Connection to Nature
Developmental learning environments cultivate an appreciation of the natural world. Tables and chairs made from solid wood allow children to touch the grains and textures of real timber. Visible screws or joining bolts demonstrate construction. Clear finishes expose the wood's natural colors without synthetic paints. Wood lends a warm, welcoming feel and contrasts brightly colored activities. Non-wood options include bamboo or molded plant-based plastics. Whatever materials are chosen, maintaining a connection to nature through furnishings ties the learning space to Montessori principles.
Final Thoughts
While classroom settings are designed by teachers, Montessori learning spaces at home rely on parents' discernment. Choosing high-quality, child-sized pieces introduces key elements. Sturdy, comfortable tables and chairs enable independence, concentration, and hands-on learning.
With room to move and work, children gain the freedom to follow their interests and develop at their own pace according to sensitive periods for skill-building. Parents can support the Montessori experience through careful, informed furnishing choices.