The COVID-19 pandemic has forced many working parents into remote working to curb the coronavirus's spread. Likewise, schools have sent students home and adopted virtual learning. Most daycare providers have also suspended services.
That means working parents have to juggle working from home and taking care of their young children. However, striking a balance between work and children can be challenging. It's like having two full-time jobs at once!
If you're struggling to stay productive while working from home, and at the same time ensure your children getting the attention they need, this article is for you. We'll share some valuable tips to help you juggle work and parenting.
Benefits of Striking a Balance Between Work and Parenting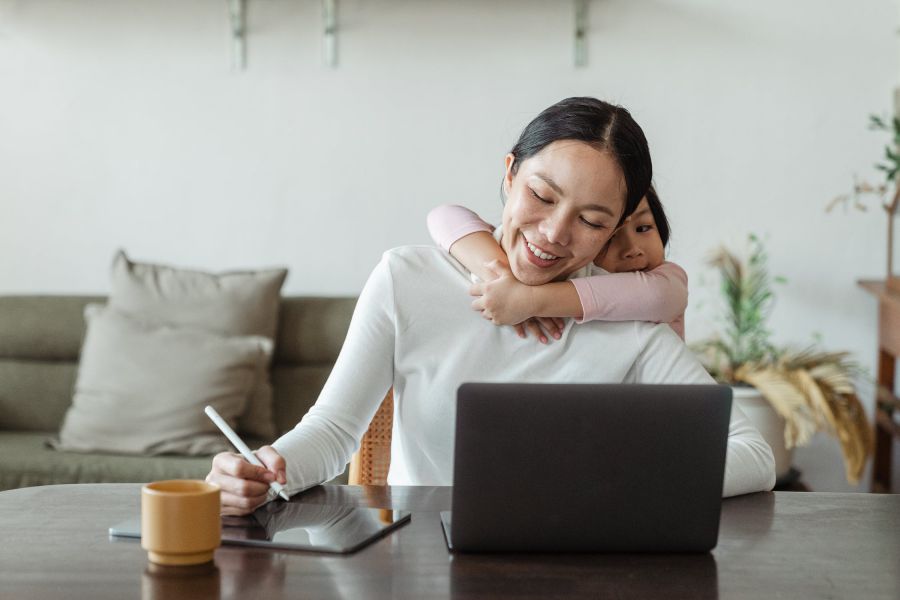 Great for Kids' Growth and Development
Children need tender loving care and quality time with their parents for healthy growth and development. If you strike a good balance between work and life, you'll have the mental and emotional energy to give your kids the attention they need to develop, learn, and thrive.
Great for Your Wellbeing
To be healthy and productive, you need to take care of yourself. By finding the right balance between work and parenting, you can make time for the things that make you happy, including hobbies, social activities, and family.
A well-balanced life will make you feel physically healthier, more in control of your time, and better able to make crucial decisions and meet deadlines.
Ability to Build Solid Relationships
When you strike a balance between working from home and caring for your children, you'll have the much-needed time and energy to build a stronger relationship with your family. Remember, the more quality time you spend together with your family, the better the relationship gets.
Now that you know the advantages of having a good balance between work and parenting, let's explore some tips on achieving that balance.
How to Achieve a Balance Between Working from Home and Parenting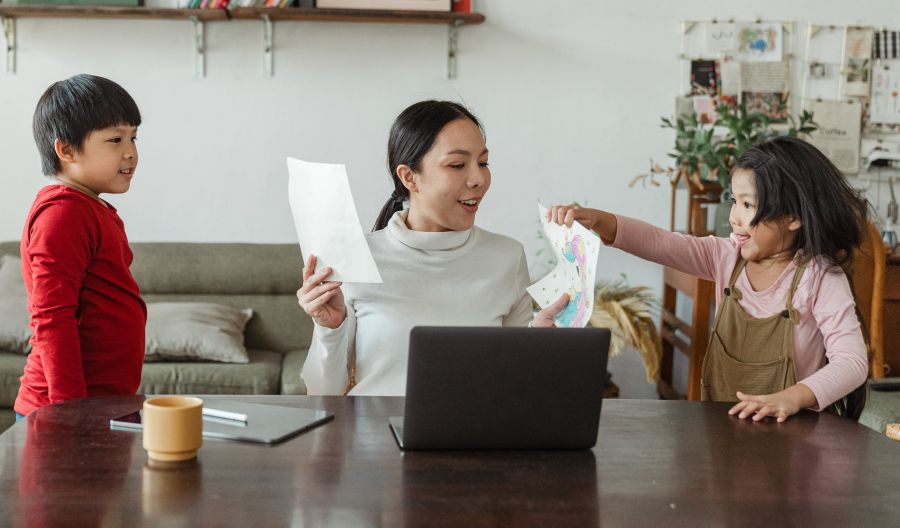 Create a Schedule That Works for Everyone
The first step to achieving the right work-life balance is to create a schedule that suits both you and your family. It's important to schedule your day carefully, with defined work hours and time to attend to your kids. One of the advantages of working from home is flexibility; you can always adjust your schedule if it doesn't seem to work.
That means that if your child needs attention during work hours, you can consider putting the work aside and spending time with your child. You can accomplish the job later when your child has settled down.
If you're employed, it's important to liaise with your employer when creating your schedule to ensure you're on the same page.
Find Ways to Support Each Other
To maintain your sanity and stay productive when working from home, consider talking to all family members, including children, spouse, and parents, about how you can support each other.
We recommend sharing household responsibilities with your partner, especially if you're both working. If you share an office space, discuss your schedules and goals to avoid inconveniencing each other.
If your children are on virtual learning, help them create a schedule, make a conducive learning environment, and set daily or weekly goals.
Encourage Your Children to Be Independent
Independent children are less likely to interrupt you when you're working. So, it's essential to encourage your children to do things on their own. Learning to accomplish things on their own is an important part of your kids' development and will help boost their self-esteem.
While it'll take time to teach your kids to cook, do their laundry, feed pets, and other chores, it will pay off in the long run by taking many activities off your to-do list.
Separate Parent and Work Roles
It's important to separate your roles as a parent and employed professional and give each your complete attention for a set amount of time. Otherwise, you'll feel like you aren't performing either role correctly.
You can achieve this by setting up a workspace away from the kids to help you detach from the rest of the house when you're working. You're less likely to leave your desk and attend to your kid's issues when you can't see or hear them.
Create a Visual Boundary for Your Children
Another excellent way to stay productive when working from home is to have a clear signal that your children shouldn't disrupt you when you're working. One effective idea is to create a sign on your desk or door.
Consider creating the sign with your children, explaining that the signal means quiet time for you. Let them understand that if they see the sign on the desk or door, it means you're working and need no interruptions unless it's a true emergency. You might want to give them alternative activities to keep them engaged when the sign is up.
Give Yourself a Break
Juggling work and parenting can be overwhelming, both physically and mentally. While it's hard to take a vacation during the pandemic, see if you can take a few days off work to recharge and focus on family. Alternately, you could see if someone can take care of the kids for you for a few days.
Ask for Help
Balancing work and parenting can take a toll on your mental health. If you feel overwhelmed, look into finding someone trustworthy to help you.
You might want to hire a babysitter, but it's not advisable due to health risks. It can also be hard to fit an extra expense into your budget.
Instead, you could ask your child's teacher for ideas on how to keep your kids occupied when you're working. Another excellent idea is to ask a relative to engage your kids in virtual storytelling via Zoom and other platforms.
Striking a balance between working from home and parenting can be challenging. However, if you create a realistic schedule, nurture your kids' independence, support each other, and implement other tips in this article, you can stay productive while giving your kids the loving attention they deserve to grow, learn, and thrive.
Bio: Pablo Espinal is a father, online marketer and web designer based out of Brooklyn N.Y, You can check out more of his posts at his home base