Giving birth is one of the most difficult things a woman can go through, yet it feels so fulfilling once it's over. Regardless of how many times you've been pregnant, your body will feel different every postpartum block. Your body might look different and you might gain weight, which makes you wonder when is the perfect time to start working on your body.
Before jumping into exercising, several factors must be considered. This includes your type of birth and whether you had any complications during your pregnancy period. But the most significant factor that has to be addressed is how you feel.
So, be patient with yourself and see what type of workout you're capable of doing because this journey is going to be a long-term feat for you and your baby.
The Benefits Of Postnatal Exercise
Post-pregnancy workouts will benefit you physically and mentally. Doing so will reinstate your muscle strength, abdominal muscles, and firm your body. Additionally, regular exercise will make your body more active and encourage the production of more energy. As a result, you may avoid developing postpartum depression, relieve motherhood stress, and improve your daily mood.
Postnatal Exercising Tips
Moreover, exercising will enhance your cardiovascular endurance, which, in effect, will help you lose weight over time. 28 at Home made a post about the reasons why you're not losing weight, one of which isn't exercising right. To make you feel at your best after pregnancy, do some exercises that are safe to perform. This way, you can appreciate its holistic effect.
The following are some tips that you may apply when you exercise after giving birth:
Start At The Right Time
There are several types of delivery methods, like Vaginal Delivery and Natural Childbirth, which are relatively less complicated than the other methods. The more complicated ones are Caesarean Section (C-Section), Forceps Delivery, and Vacuum Extraction.
If you had either of the first two methods mentioned, it's safe to start working out the moment you're ready or a few days after you gave birth. However, if you had a complicated pregnancy, it's advisable to seek professional approval from your health care provider before doing some exercises.
Choose The Right Exercise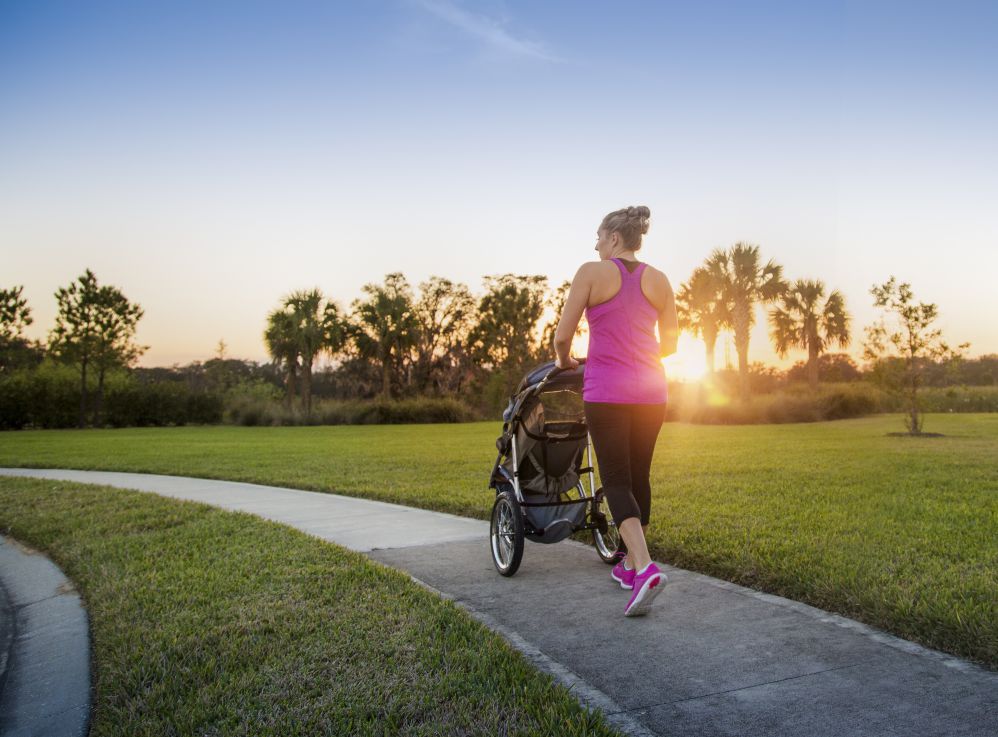 When going through a tremendous change, a gradual process to get back in shape must be observed. This isn't limited to exercising alone. The gradual process means slowly changing your daily routine and daily diet.
As for mothers who want to move their bodies, you can always do so, and the best exercise to perform is walking. This is the simplest and most recommended form of workout considering that your body is still recovering from pregnancy.
Aside from walking, here are some exercises you can also try:
Yoga: Yoga is a good form of exercise to reduce stress and have good blood circulation. If you're used to doing difficult yoga poses before, shift back to the basics, such as pelvic tilts, warrior I, and supported bridge. Better yet, enroll in a postpartum yoga class so you can be assisted with professionals, helping you avoid injuries.
Swimming: Swimming is a good form of low-impact exercise that you can do. It's both cardiovascular exercise and endurance training, which gets your heart pumping while toning muscles. But you'll need to wait for a few weeks before having fun in the water because your wounds still need to heal.
Pilates: This exercise won't just increase your flexibility and strengthen your core, but it'll also improve your thigh muscle strength. This is a great way to prevent arthritis and knee injuries. Since you just gave birth, you probably will need some assistance.
Kegel Exercises: Also referred to as Pelvic-Floor exercises, Kegel exercises aim to strengthen your pelvic muscles. This involves actions that'll repeatedly make small contractions in the pelvic area and vaginal wall. Performing these exercises will prevent bladder control issues.
Join Group Classes
Taking care of your baby at home might feel very isolating. This is risky for women as it may turn to postnatal depression and anxiety. It would be much safer and more fun for you and your baby to attend group exercise sessions. This way, you'll be guaranteed to have professional guidance by your side while performing postnatal exercises.
Plus, you get to meet new moms and create good relationships with them. Being part of such activities will make you work in an environment with positive attitudes and supportive co-mothers. You may even learn some parenting styles to help you when you're a first-time mom. Moreover, there's a lesser possibility for you to skip a workout session when you're part of an exercise group or class.
There are exercises that they can offer to make your postnatal fitness journey more fun and enjoyable. Talking to your trainer will also help you reach your goal in no time while observing safety measures.
Listen To Your Body
Always listen to your body. Don't start exercising right away just because you've been physically active before having a baby. Regardless if you had a complicated or uncomplicated delivery, your body needs time to recover from labor, physical changes, as well as mental and emotional conditions.
Try new exercises that you find comfortable doing. Talk to your doctor about how you feel. Tell them if you feel uncomfortable even after weeks of rest or if you feel that your body is ready to get moving.
Conclusion
To sum it up, give your body the needed rest before doing exercises. This way, you may avoid postpartum depression and other stress from becoming a new mother.
Once you feel the need to move and the desire to get back in shape, always start slow. Go back to the basics and gradually increase the intensity, frequency, and time whenever you feel you can. Perform the exercises with proper form. It may also be better to have someone assist you, avoiding injuries. For a fun experience in working out, consider enrolling in an exercise group where you can bring your baby with you. Through this, you'll feel less lonely in exercising and it's a bonus to meet new mothers who'll encourage you as you go along your fitness journey.