Sheer dresses have always intrigued most of the woman in the US. Due to the street fashion trend these days and also due to the usage of these dresses by celebrities, these types of clothes are used in daily life without hesitation.
These outfits are the most modern ones, and if you are hesitant about them for usage in daily life, you can use them for the photoshoots because, in the pictures, these make you look fabulous.
Sheer maternity gowns are being used nowadays for the maternity photo shooting. These are perfect dresses because these gowns suit pregnant women and highlight their beautiful pregnant bodies.
Sheer Maternity Dresses for Photoshoots: What are they?
These are the outfits made from materials like sheer lace, tulle, chiffon, georgette, and gauze. Some are lace maternity dresses with beautiful patterns.
These apparel are see-through ones. These attires, among others, are used for photo shoots nowadays. These let the camera capture the changes in your body while you were pregnant so that you can capture those moments for your whole life.
These come in a variety of styles. You can wear a sheer maternity shirt with split front trousers or a sheer maternity dress, and the decision rests upon your liking of the fashion.
Shoulder cut, bell sleeve, shoulder chiffon, shoulder lace, lace, sleeveless top, striped, sleeveless, half, or full-sleeved, ruffles, maxis, skirts, mermaid, over-the-knee, and other pregnancy dresses are also available in the market.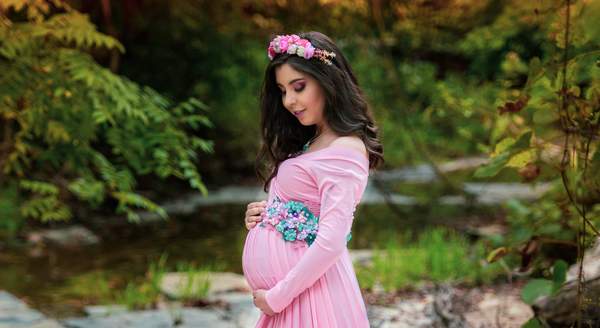 You don't have to be naked under these, you can wear your favorite bra and panties under them and give a look that is attractive as well as ethical.
If you find your pregnant body not-that-good looking, then these are for you. Wear such maternity gown, photo it with proper undergarments, and you will look just fine.
How Sheer Pregnancy Dresses different from other maternity dresses?
The basic thing that differentiates these from others is the see-through nature. Most of the other clothes in most of the cultures are used for hiding the bodies, but these are used for showing your pregnant body in a better way.
Wearing other outfits, you are less concerned with the type and color of the undergarments, but wearing these, you have to be very selective regarding them.
The garments you are wearing under this attire make the whole look sexy and gorgeous.
If you are wearing perfect sheer maternity apparel but the garments you are wearing under it are not in compliance, then this will make you look bad instead of good.
The see-through front maternity clothing is being used by many pregnant females nowadays for the better display of their maternity body in the pictures.
The split front maternity dresses allow the belly bump to be visible for the camera so that it is shown in a more sexy way. Maxi maternity dresses of sheer nature make you look hotter than any other maxis.
How to wear them?
You have to be very conscious of these pregnancy clothes. It is not just the outlook that you have to maintain for these; you have to maintain the under-look also. Sounds weird, right?
The sizing chart is used for the selection of the dress with the size that will look perfect on you.
For wearing this, you have to be very careful. You have to be confident about the apparel as well as your undergarments. Before wearing this, make sure about the garment you are going to wear under it because it has an equal contribution to the looks. Read about Goddess maternity photoshoot clothing.
The color of the gown must make your skin color look better than usual because you need that for the maternity shoot.
On what occasions can they be worn?
These are pretty special dresses that you don't wear to the wok. If you are wearing them, then you must be giving them a formal touch.
Sheer formal maternity gowns have other types of opaque fabrics in them and are not fully see-through.
These can be worn as the baby shower clothes. Jersey knit type sheer dresses are commonly used nowadays for events. Maternity short suits and chiffon gowns are also being used.
These are mostly for the photoshoots. Prop clothes are also being used nowadays. Maternity photo shoots are special for some women as they like to keep the memories with them throughout life, so gown maxi photography dresses that are see-thru are good options for them.
For parties, see-thru nature is controlled in intelligent ways. These can be worn if you choose the garment that you are going to wear under it wisely.
Many women in the US are using the tube top sheer maternity attire and other lace sheer apparel for parties as well as other occasions.
Who can wear them?
Pregnant women who don't have an issue with the display of their body in the pregnancy can wear them. It is not necessary that all of the body parts can be seen from the clothes.
You can wear vests or other undergarments to let the people intrigue about your beauty.
The ball gown maternity versions can also be used by the pregnant ladies who like them. For the photoshoots, every pregnant woman can wear these. The decision is up to you about how much you want to show in these dress photos.
The women who are going to remain in their house can wear these for maximum comfort and ease. The rib cage, belly bump, breasts, and other body parts remain pretty comfortable in such dresses.
Accessories that go with Sheer maternity dress
These types of maternity clothes are a new concept. The accessories that look good with them can be worn.
The accessories that can go with these depend upon the occasion. If you are going to a family function, you can have a handbag with some sober shoes and maybe a necklace and earrings.
The accessories you are having must be per the clothes, undergarments, and the theme of the party.
You can go with the color matching accessories or maybe with the contrasting ones. All of this depends upon your style and the way you like things to be.
Maternity off-shoulder sweetheart top with white lace would look good with white shiny long clothing shoes. As thigh fitted gowns, sheer lace maternity gowns and maxi maternity gowns dresses go with different sorts of accessories, so every one of them needs different accessories.
How much do they cost?
The cost is not only for the see-thru pregnancy clothes you are buying, but it is also for the undergarments that you intend to wear these. Without underwear, these may not be useful for a lot of women.
You can buy these in $$-$$$ range. Some that are exclusive and special in many ways be in $$$$ range. Mostly the $$-$$$ range works.
Things to consider before buying
The color must look good with your skin color.
The fitness should be according to your body.
The fabric must not be itchy and uncomfortable.
Price.
How many garments can go with the dress?
How many occasions can it be worn?
Photo props.
Is it suitable for a photoshoot?
Can these be worn after maternity?
As a general rule, maternity clothing is far too loose to be worn after the maternity period.
These can be used if you use them in intelligent ways. The main focus of other people goes on the undergarments and the body, so you have a chance to use the looseness of the apparel as a fashion.
These can be used for some time when the body is coming back to the normal shape, and afterward, you may get them according to the body size you have.
At what stage of pregnancy do they suit you the most?
These have various other factors for making them suit you so you can wear them at any stage of the pregnancy and look good.
In the initial stages of the pregnancy, the body is not that much changed, so these are loose for you at that time. You can use some tight and sexy underwear to impart a sexy look in those times.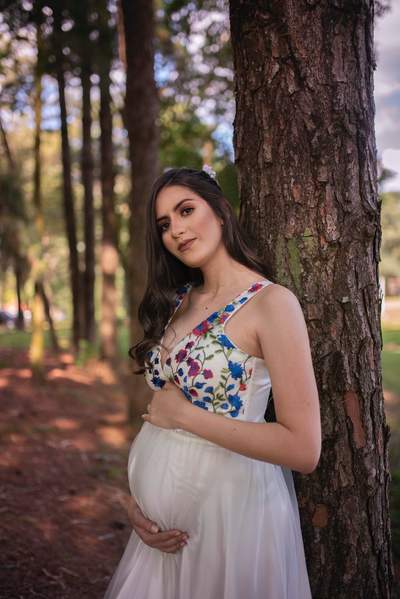 After the 3rd month, the bump starts to grow considerably, so now these clothes will fit perfectly and are best for the maternity photoshoots.
What colors are they mostly available in?
Commonly, these are made from natural and synthetic fibers of many origins. These can be dyed; however, the designer wants.
There is not a lot of mixing of different colors in these as they are see-through, and mostly a single color is kept for the dress.
These mostly come in white, black, reddish-pink, baby pink, and light blue shades. Laces are used along with other stylish stitching to make these look better.
Some of them may have patches and printings or embroidery in contrasting colors.
They are suitable for which season?
As these don't have a thick fabric so these may not be a good idea for the winters. If you wear these in the winters, then you may have to put a lot of layers of warm clothing above and below the dress, so their remains no point in wearing these.
For the summer and warm weather, these are perfect. Your body can get solace from these when worn in the summer.
Whatever the season is, these are always good as the maternity gowns for photography.
Pros:
Modern style makes you look modern.
Perfect for the maternity photos.
In the photos, these show the beauty of the pregnant body.
Soft fabric provides solace.
Flaunt your sexy body.
Sheer lace maternity dresses can be used on many occasions.
Make good photoshoot props.
Cons:
Unacceptable in some cultures.
Some women may find these disturbing.
It cannot protect the skin from mild damage.
Difficult to carry.
Extra cost on the fancy undergarments.
It can't be worn without proper undergarments.
Complex to wear and carry.