Graduation ceremonies are memorable. They are ways by which people celebrate the successful completion of a program of study. It is an event that remains very significant in one's life, be it a Master's degree, college, high school, or even kindergarten. It is, in fact, an excellent way of sharing the excitement with friends and family.
Although Graduation Announcements fall in a similar category with graduation invitation, wedding invitation, party, or graduation party invitation, graduation announcements are sent basically to share the excitement associated with the academic accomplishment with loved ones. So, it is not necessarily an invitation to the ceremony. Additionally, Graduation announcements accentuate a sense of inclusion in the achievement to both the immediate and extended family.
Although a graduation announcement is not necessarily an invitation, it can serve as both announcements and invitations to the ceremony. Fortunately, graduation announcements remain quite useful and preserving as a keepsake whether the recipients attend the occasion or not. Notably, in a situation where the intention is specifically to invite guests to the celebration, a school graduation party invitation can be separately designed.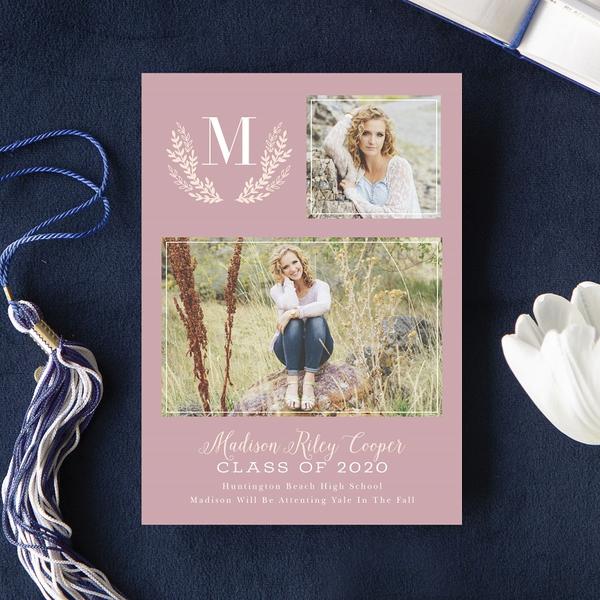 Typically, Floral Graduation announcements are unique designs amongst several others as they are brought to life with luxurious paper, printing options, most especially flower designs, floral backgrounds, and elegant flower elements of various quality, formats, and colors (or precisely, the school color). Having a pretty floral graduation announcement design is enough to make one eager to distribute. However, etiquette suggests a few things that have to be taken into consideration before sending graduation announcements out.
Although Floral announcements can also come as birth announcements, wedding announcements, boy birth announcements, girl birth announcements, moving announcements, it is best used in expressing graduation excitement as it is more of an inclusive list than an exclusive list.
Who to send Floral Graduation Announcements to
This idea is a thoughtful means of gratifying and appreciating people who have influenced and contributed positively to the success and indirectly to the graduation graduate's future.
Often, people send out graduation announcements to family members, friends from childhood, teachers, mentors, etc. from both far and near. Logically, the graduation announcements will serve as keepsakes for recipients who wouldn't be able to attend. In the same vein, advanced notice can be sent along with graduation announcements to guests who might have to travel down to make attendance.
Although graduation announcements have no binding rule as to who and who not to send to, the quality and number of people who receive one's holiday cards remain a yardstick as to who to send graduation announcements to.
What to write in Floral Graduation Announcements?
There is no specific format for writing graduation announcements, but it is essential to keep up with the graduation announcements etiquettes to make an official announcement.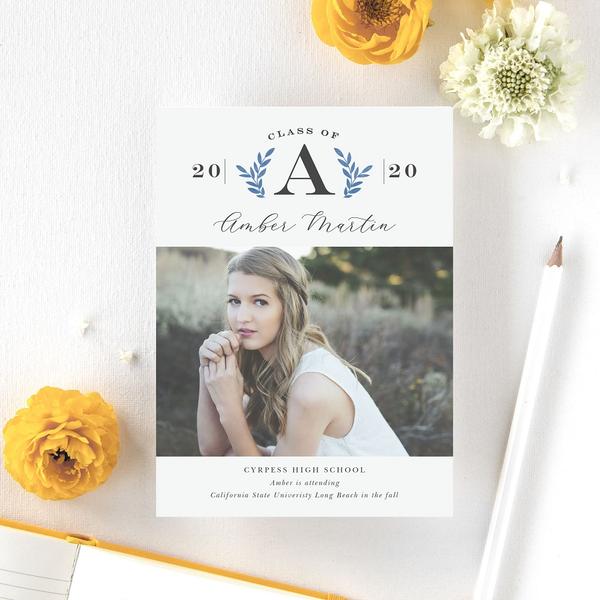 The contents of graduation announcements are significantly associated and influenced by the particular announcement design in use. It should include vital information such as your official name, year of graduation, name of institution, a clear photo of you, personal message, etc. It should also include fun and interesting quotes that will reflect your personality, the sender. It could also include pictures, artistic feels, address labels, return address labels, etc. The floral designs can then be intensified using gold glitters and school colors such as pink florals.
When to send Floral Graduation Announcements
An essential part of this aspect after gathering all requisite information is to consider every little detail and factor so as not to send the invitation too far before or after the event, as the case may be. Usually, the invitation could be sent within a wide range of two weeks before the date or four weeks after the invite is accepted. Although etiquette experts say that unlike RSVP cards, reception cards, Hanukkah cards, tcc., sent before the event, graduation announcements should preferably be sent after the ceremony has taken place.
It can also be accompanied with graduation thank you card.
Considering the level of modernization today where a large percentage of people are tech-savvy, it definitely will be tempting to send out a mass email to people who would like to know about this accomplishment irrespective of the distance or timeframe. Printed announcements remain most appropriate for those who would find emails rather too informal.