As a mother of a lively preschooler and a dynamic teenager, I, Amy, understand the unique challenge of finding activities that captivate the ever-evolving interests of teens.
My husband, Matt, and I have often found ourselves brainstorming for ideas that would not only engage our teen but also strengthen our family bond.
Through trial and error and laughter, we've discovered that the key to success lies in variety and a dash of adventure.
In this article, I'm thrilled to share with you 15 wonderful activities that have received the seal of approval from my teenager and are generally accessible in most communities.
From exhilarating outdoor adventures that had us all laughing under the sun, to cultural experiences that sparked intriguing dinner table conversations, and educational outings that surprised us with their fun quotient – this list is a compilation of our family-tested adventures.
Whether you're a parent like us, navigating the delicate balance between keeping your teen entertained and ensuring they're absorbing valuable experiences, or you're simply looking for fresh ideas, this guide has got you covered.
Join me as we delve into a world of activities where every family outing promises discoveries and cherished memories.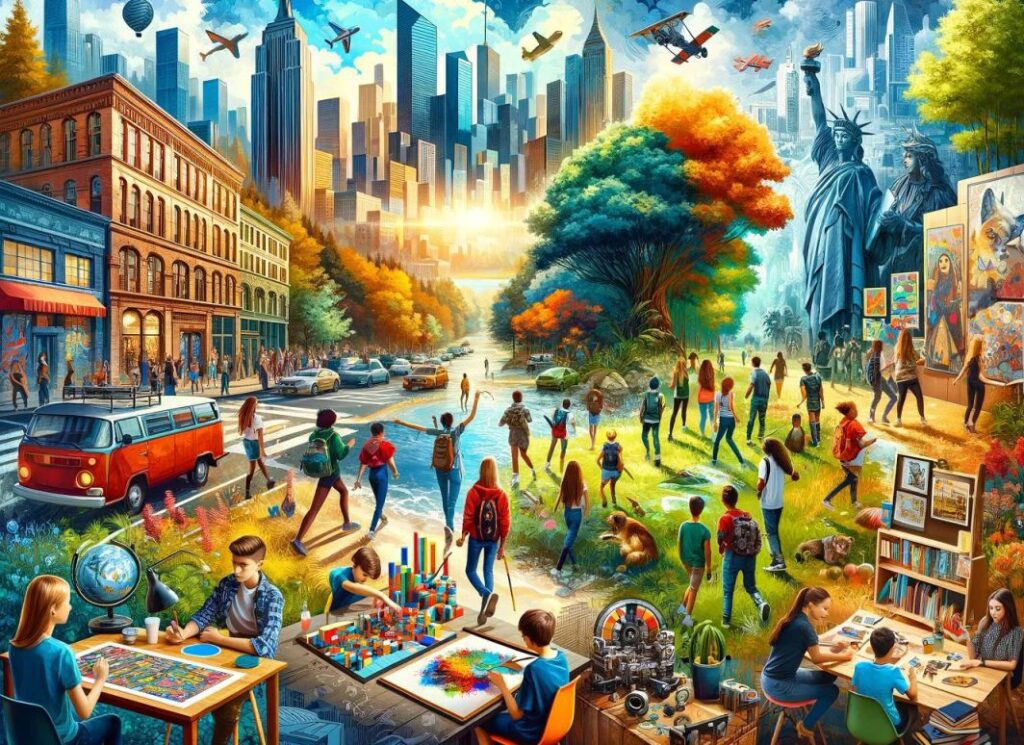 Outdoor Adventures
Hiking and Biking Trails: Research local trails that offer varying difficulty levels to match your teen's fitness and experience. Consider trails that offer unique features like waterfalls, scenic overlooks, or historical landmarks. Don't forget to pack essentials like water, snacks, and a first-aid kit.
Kayaking and Canoeing: Many local parks offer rentals. Opt for calm rivers or lakes for beginners. You can also look for guided tours which can provide interesting insights about local ecology and geography.
Exploring Nature Reserves: Besides hiking and biking, consider exploring local nature reserves. These areas often have unique ecosystems and wildlife. Guided nature walks can be educational, offering insights into local flora and fauna.
Educational Experiences
Museums and Science Centers: Look for interactive exhibits or special teen nights. Some museums offer scavenger hunts or immersive experiences that can make learning fun and engaging.
Historical Sites: Visit local historical landmarks. Many sites have guided tours which can provide a deeper understanding of the area's history and culture.
Special Exhibits and Events: Keep an eye out for special exhibits at museums or science centers that cater specifically to teens. These could be interactive art installations, hands-on science experiments, or historical reenactments that bring history to life.
Sports and Physical Activities
Climbing Walls and Skate Parks: Check for facilities that offer beginner courses or safety equipment rentals. These environments are great for developing physical skills and confidence.
Local Sports Leagues: Research community sports leagues or group classes that cater to teenagers. Sports like soccer, basketball, or swimming can be great for physical health and socializing.
Fitness Challenges and Marathons: Many communities host fun runs, obstacle courses, or charity marathons. Participating in these events can be a great way for teens to challenge themselves and contribute to a good cause.
Arts and Culture
Theater Performances: Look for local theater productions that are teen-friendly. Many community theaters also offer youth acting workshops.
Art Classes: Find workshops in mediums like painting, photography, or digital art. These can be great outlets for self-expression and creativity.
Cultural Festivals: Look for local cultural festivals which can be a fun way for teens to experience different cultures through music, dance, food, and art. It's a great way to broaden their horizons and learn about diverse traditions.
Food and Culinary Experiences
Teen-Friendly Cafes: Identify cafes that have a relaxed atmosphere and offer Wi-Fi, making them perfect spots for teens to hang out.
Cooking Classes: Look for cooking workshops that cater to young people, teaching them basic culinary skills and recipes.
Farmers' Markets and Food Tasting Tours: Visiting a local farmers' market or joining a food tasting tour can be a delightful experience. Teens can learn about local produce, try different foods, and gain an appreciation for the culinary arts.
Technology and Gaming
Gaming Arcades and VR Experiences: Seek out arcades that offer a variety of games, including virtual reality options, which are popular among teens.
Tech Workshops: Coding and robotics workshops can provide valuable skills in an increasingly digital world.
Local Hackathons or Gaming Tournaments: Check if there are any local hackathons or gaming tournaments where teens can participate. These events are not only fun but also encourage teamwork and problem-solving skills.
Volunteering Opportunities
Community Service: Encourage teens to participate in local food banks, animal shelters, or environmental clean-ups. This promotes a sense of responsibility and empathy.
Mentorship and Tutoring Programs: Encourage teens to join mentorship or tutoring programs where they can help younger kids. It's a great way for them to give back and develop leadership skills.
Shopping and Leisure
Popular Shopping Areas: Identify shopping districts or malls that are popular among teenagers. These areas often have a variety of stores catering to young fashion and interests.
Movie Theaters and Bowling Alleys: Look for teen-specific deals or events at these venues for an enjoyable and cost-effective outing.
DIY Workshops at Local Stores: Some local stores or boutiques offer DIY craft workshops or customization services. These can be fun for teens to create something unique and personal.
Adventure Parks and Fun Centers
Amusement Parks: Research seasonal passes or group discounts. Some parks offer special events like concerts or themed nights.
Water Parks: Water parks are great for hot days and often have a range of rides catering to different thrill levels.
Night Events at Parks: Look for night events at adventure parks or fun centers. Many places host special after-dark activities like night zip-lining or evening concerts, which can be a unique experience.
Nature and Wildlife
Zoos and Aquariums: These venues often have educational programs and interactive experiences like animal feedings or behind-the-scenes tours.
Botanical Gardens: Look for gardens that have themed areas or special exhibitions, which can be both beautiful and educational.
Bird Watching and Photography: Equip your teen with a camera and binoculars for a bird-watching adventure. It's a peaceful activity that teaches patience and appreciation for wildlife.
Workshops and Classes
Photography, Writing, Pottery Classes: Local community centers or art schools often offer classes in these areas, which can be great for developing new skills and hobbies.
Language and Culture Classes: Encourage teens to learn a new language or take cultural classes. This can be an enriching experience, offering them a glimpse into a different world.
Local Festivals and Community Events
Festivals and Events: These can range from music and art festivals to seasonal fairs and cultural events. They provide a glimpse into local traditions and talents.
Participation in Parades or Floats: Check if your community hosts parades where teens can participate, either in planning or on a float. It's a great way for them to be actively involved in the community.
Beach and Water Activities
Beach Days: Plan a day trip to a nearby beach. Activities can include swimming, beach volleyball, or simply relaxing by the water.
Water Sports: Renting equipment for activities like paddleboarding or jet skiing can be a thrilling experience for adventurous teens.
Beach Clean-up Days: Participate in local beach clean-up days. It's a productive way to spend time at the beach while teaching responsibility towards the environment.
Additional Ideas
Escape Rooms and Puzzle Challenges: These activities are great for critical thinking and teamwork. They are fun, challenging, and provide a sense of accomplishment upon completion.
Visit a Planetarium or Observatory: For teens interested in astronomy, a trip to a planetarium or observatory can be fascinating. Many offer special viewing nights or astronomy clubs.
These additional details provide a more comprehensive overview of activities that can be both enjoyable and beneficial for teens. Each activity not only promises fun but also offers learning and personal growth opportunities.
Conclusion
Engaging in these activities with teens not only strengthens relationships but also supports their growth and development.
From outdoor adventures to cultural experiences, there is a plethora of options to keep teenagers entertained and engaged.
This guide provides a comprehensive list of activities that are sure to create memorable experiences for both you and the teenagers in your life.
Remember, the key is to explore, try new things, and most importantly, have fun together!
This article, designed with SEO optimization in mind, not only caters to the interests of teenagers but also serves as a valuable resource for parents and guardians looking for quality time with their young ones.
Each activity mentioned here is an opportunity to foster connections, build skills, and make lasting memories.
So, step out and explore the wonderful activities your local area has to offer for teenagers!
Frequently Asked Questions (FAQs)
Where can I find a good escape game for teens in Los Angeles?

If you're in Los Angeles and looking for an exciting escape game perfect for teens, you're in luck. The city boasts various escape rooms catering to different interests and skill levels. These games are fun activities for teens and a great way for the family to bond and work together.

Are there any trampoline parks suitable for teenagers in North America?

Absolutely! North America has numerous trampoline parks that are ideal for teenagers seeking an energetic and fun activity. These parks often offer many features, from basketball hoops to foam pits, making them a top pick for kids' activities and family outings.

What are some fun activities for teens that involve rock climbing?

Rock climbing is a fantastic teen activity, offering both physical exercise and mental challenges. Many communities have rock climbing gyms that cater to all skill levels, providing a safe and exciting environment for this thrilling sport. Additionally, outdoor rock climbing can be a great way to explore nature.

Can you recommend any miniature golf courses in South Florida for a family day out?

South Florida has a variety of miniature golf courses that are perfect for a family day out. These courses offer a fun and relaxed setting, often themed and creatively designed, making them enjoyable for kids and adults. It's a great way to enjoy an outdoor activity while engaging in friendly competition.

Are there any unique, fun activities for teens, like axe throwing or local art experiences?

For teens looking for something a bit different, axe throwing has become increasingly popular and can be found in many urban areas. It's an exciting way to challenge oneself and learn a new skill. For those interested in local art, many communities offer art walks, workshops, or classes where teens can immerse themselves in the local art scene, fostering creativity and appreciation for the arts.