The childhood years are crucial as they contribute to the physical and cognitive areas of the child, which are essential in developing a smart and healthy child.
Therefore, if you want your baby to get the best out of this stage of childhood and develop into an intelligent, healthy, and intuitive child, it is necessary to choose the appropriate toys.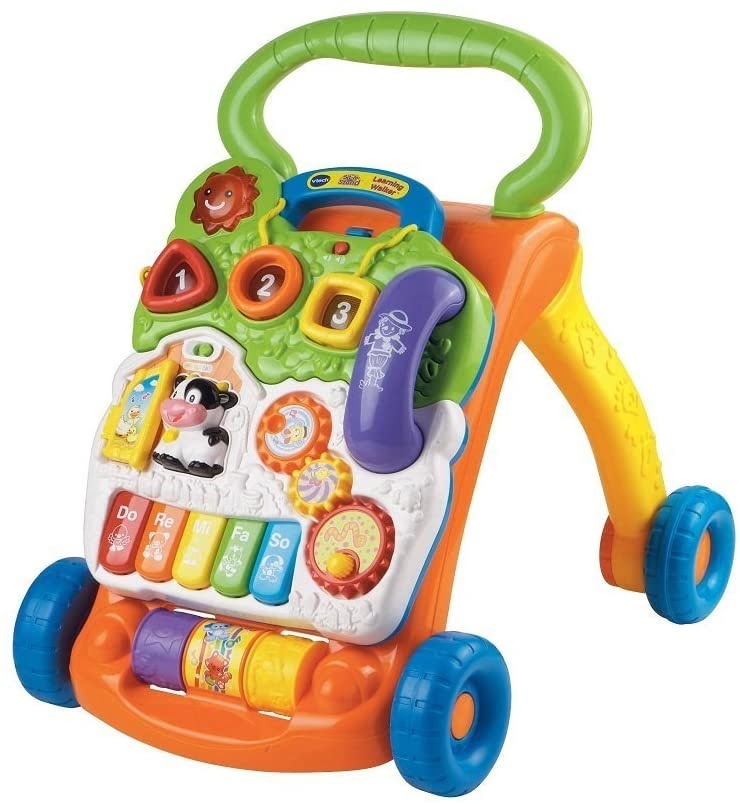 From the first steps to significant strides, from sitting to standing, the Vtech sit-to-stand learning walker develops your child's ability from crawling to walking through intuitive technology.
Sale
VTech Sit-to-Stand Learning Walker (Frustration Free Packaging) , Orange
Interactive learning baby Walker has a removable play panel; frustration free packaging means it comes in a plain brown box
Early learning center has 5 piano keys that play music and encourage creativity; wheels work on carpeted and hard floors
Features 2 colorful spinning rollers, 3 shape sorters, and 3 light-up buttons that develop motor skills
Pretend telephone handset and mechanical elements enhance role-play fun; 2 AA batteries are included
Over 70 sing-along songs, music, sound effects and fun phrases; meant for babies and toddlers 9 months to 3 years old. Sensory development
Frustration Free Packaging means it comes easier to open in a plain brown box. Helps in Language Development
Batteries included for demo purposes only. New batteries recommended for regular use.
It is one of the popular brands as it is not just a toy or walker, it is both, and your little ones are sure to have unlimited fun as they learn to walk while being cheered on by a concourse of playful friends.
It's also in our top 30 best baby walkers, which you can read over here.
Vtech sit-to-stand Learning Walker Features
Removable Activity Panel
The easily removable activity panel allows for play on the floor or the run. By stepping it up with the easy-to-maneuver walker, the baby learns to walk.
The three brightly colored rollers, five piano keys, spinning gears, a telephone handset, three shape sorters, and buttons that light up to provide endless fun which helps develop your kid's learning and motor skills.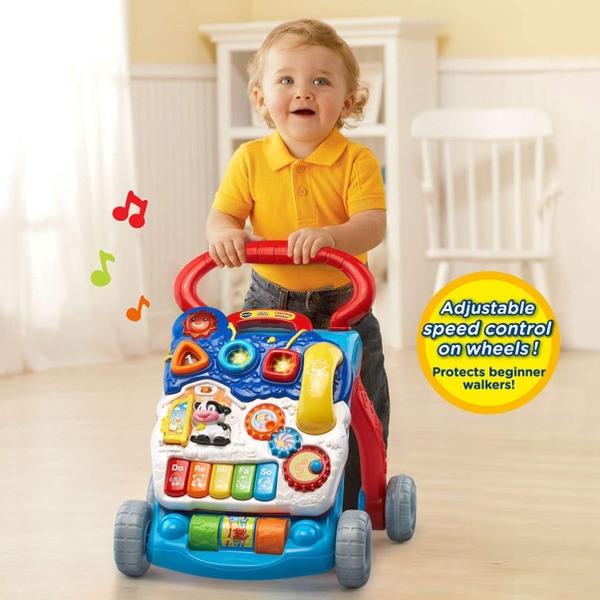 This activity panel is colorful, detachable, and comes in a plain brown box. The interactive panel can be removed from the learning baby walker for floor-play fun. Read about Baby Einstein Walker.
Learning Center
The Vtech baby, walker keeps your kid on a defined path as they learn shapes, colors, music, animals, and more. The learning center has five piano keys, which are easy to learn.
They play music and encourage your baby's creativity. The piano keys are mounted on wheels, which work well on carpet and hard floors.
Make-believe Telephone handset
The faux telephone enables role play with its mechanical elements. Included are two AA batteries to power it on and make it function.
Sing-Along Songs
With over 70 songs, music, and sound effects, which are sing-along, learning can no longer be a tedious activity for your toddler or baby.
The walker range is intended for children aged 9 to 36 months.

Specifications
| | |
| --- | --- |
| Brand | VTech |
| Dimensions | 16.5 x 14.2 x 18.1 inches |
| Item Weight | 5 lbs. (2.27 kg) |
| Model | 80-077001 |
| Available Colors | Blue, Lavender, Orange, Pink |
| Batteries | 2 x AA batteries |
| Batteries Included | ✔ |
| Release date | September 1, 2011 |
| Recommended age | 9 months – 3 years |
| Origin | China |
Pros of Vtech Baby Walker
The Vtech Sit-to-stand learning walker helps the child develop excellent motor skills.
It provides physical interaction and fun as the child learns music, animals, and songs.
The five piano skills aid in child learning through music and enhance sensory.
It's adjustable.
More so to its function, your child moves from rolling and crawling to eventually standing and walking without support. Isn't that amazing?
Cons of Baby Walker by Vtech
It is not significant in size, and the child can learn only for a limited time.

Final Words
Over the years, studies have revealed that babies are smart.
And so, with a lot of practice, balancing, moving, strengthening, and continuously testing themselves about things they can do through their innate curiosity.
With the Vtech baby walker, you can be sure babies' excellent motor skills are rapidly developed.
It is not too early to develop learning; like the parent, you are the primary source of your child's learning.
You want the best for your child.
So why don't you ensure you make the most of this responsibility and go for this product and enhance your child's sensory, motor skills, and language development?
Equip your little one with the gift of literacy. Discover proven techniques, engaging book recommendations, and expert insights tailored for young readers. Let's set them on a path of lifelong learning and curiosity. [Read the Children Learning Reading Reviews here.]
Frequently Asked Questions
Which VTech Baby Walker is best?

It is a tough choice for a person like me with three kids in the house to pick the best one. But I am sure the VTech Sit-to-Stand Learning Walker will not disappoint any parent.

It has so many features that you would expect from an expensive walker. Your child will love the fun animal buttons that light up and sing songs.

Your child will enjoy hours of play with the six fun activity stations encouraging the baby to walk while playing hide and seek with the pink butterfly, sliding the zebra back and forth, popping the ladybug's wings, and spinning the owl's head.

What age is the Vtech walker for?

The Vtech walker is for ages 9-36 months. A children's walker gives the child a sense of independence. This VTech walker is the perfect first walker with its lightweight design, high-contrast details, and fun tunes.

The VTech walker features two modes, learning, and music.

In learning mode, the child can press six buttons that play fun melodies, sing along to the alphabet, and teach numbers and shapes.

In music mode, the child can press the piano keys to hear classical melodies and sing along with their favorite sing-along songs.

The volume is adjustable so it can be turned off completely or left on to foster a sense of independence. The walker is easy to use: all a child needs to do is sit and scoot.

The walker will bring the child's feet closer to the ground and help them to take their first steps towards independence.

This VTech walker is the perfect first walker for any child to begin their journey to walking independently.

What songs does the Vtech Learning Walker play?

Old MacDonald Had a Farm
Turkey in the Straw
The Glow Worm
Mary Had a Little Lamb
Polly Wolly Doodle
Pop! Goes the Weasel
Hey Diddle Diddle
Oh Susanna!